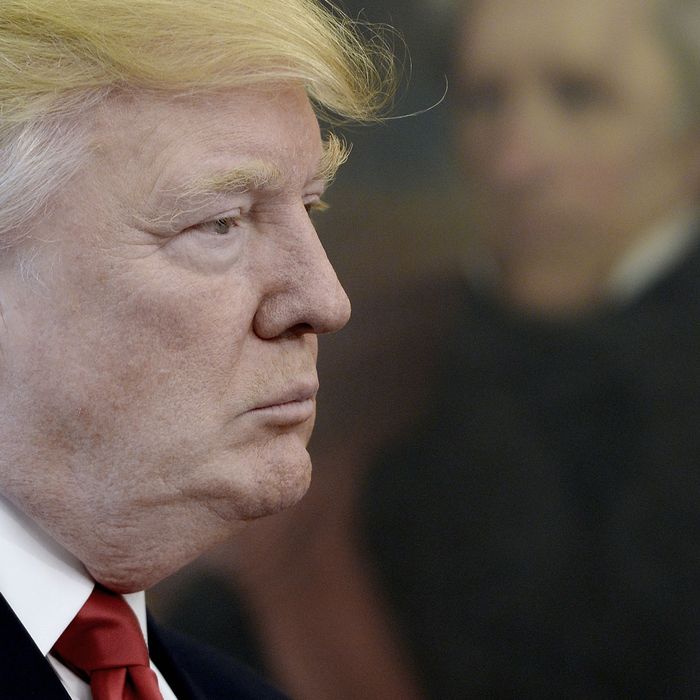 So far, he's offered more insight on his wiretapping theories than his plan for Syria.
Photo: Pool/Getty Images
There is a phrase that the Trump team is fond of deploying when they don't care to explain their boss's most outrageous, befuddling remarks. "I think Mr. Trump speaks for Mr. Trump. He makes every major decision in this campaign," then-campaign manager Corey Lewandowski said back in June. "He speaks the way he does in very plain words, in very plain English, and he gets his message across."
Even after Trump took office, people literally paid to speak for the president have claimed that he's the only one who can truly articulate where he stands. Jason Miller, Sean Spicer, and Sarah Huckabee Sanders have said Trump's tweets "speak for themselves" on more than half a dozen occasions. "I'm going to let the president speak for himself," Kellyanne Conway told CNN, when asked recently if a president should call his predecessor "bad or sick." "He's perfectly capable of that."
However, as the New York Times notes, President Trump does not seem fully capable of explaining how last week's attack on the Assad regime fits into his larger strategy for Syria. In a brief statement after the strike, Trump alluded to how he'd square the move with his administration's "America first" policy, saying, "It is in this vital national security interest of the United States to prevent and deter the spread and use of deadly chemical weapons." Since then he's only issued two tweets on the matter, one thanking the troops, and the other explaining why the air base's runway wasn't destroyed.
Over the weekend, various White House officials — including U.N. ambassador Nikki Haley, National Security Adviser H.R. McMaster, and Secretary of State Rex Tillerson — all suggested that the Trump administration is now in support of regime change in Syria, but they contradicted each other on the details. On Monday, White House Press Secretary Sean Spicer muddled things even further, contradicting himself and initially leaving reporters with the impression that the U.S. might launch an all-out war against Syria.
When asked to explain the Trump doctrine on foreign intervention at Monday's press briefing, Spicer said it was noninterventionist:
The Trump Doctrine is something that he articulated throughout the campaign, which is that America's first. We're going to make sure that our national interests are protected, that we do what we can to make sure that our interests both economically and national security are at the forefront. We're not just going to become the world's policeman running around the world, but that we have to have a clear and defined national interest wherever we act, and that it's our national security, first and foremost, that has to deal with how we act.
When a reporter asked how that justifies striking Assad for using chemical weapons on his own people, Spicer said:
I think if you recognize the threat that our country and our people face if there is a growth of use or spread of weapons of mass destruction — the proliferation of those, the spread to other groups is clear danger to our country and to our people.
As the Washington Post's Aaron Blake notes, "That is, almost word for word, a justification that could be applied to the Iraq War that Trump has so roundly criticized."
That's only a definition of when Trump might use military force against another nation, but later in the briefing Spicer appeared to suggest that the U.S. would indeed dramatically step up its attacks on Syria. "If you gas a baby, if you put a barrel bomb into innocent people, I think you will see a response from this president." Spicer mentioned barrel bomb attacks a second time, saying they could trigger "further action."
These comments sparked much confusion because Assad's forces use barrel bombs — usually oil drums filled with explosives and sometimes metal dropped from helicopters — very frequently. The Syrian Network for Human Rights estimates that Assad's forces dropped 13,000 barrel bombs in 2016, or about 36 per day.
Later on Monday, the White House walked this back, claiming Spicer was only referring to barrel bombs that contained chemical weapons.
"Nothing has changed in our posture," the White House said in a statement. "The president retains the option to act in Syria against the Assad regime whenever it is in the national interest, as was determined following that government's use of chemical weapons against its own citizens."
Spicer might have been unclear on the definition of barrel bomb, but Tillerson offered a similarly confusing remark about the Trump administration's foreign-policy vision during a visit to Sant'Anna di Stazzema, an Italian village where Nazis killed more than 500 civilians. "We rededicate ourselves to holding to account any and all who commit crimes against the innocents anywhere in the world," Tillerson said on Monday.
White House officials might be right about letting Trump speak for himself, as he may have offered the best description of the Trump doctrine a day before the strike on Syria. "I don't have to have one specific way, and if the world changes, I go the same way, I don't change," he said. "Well, I do change and I am flexible, and I'm proud of that flexibility."