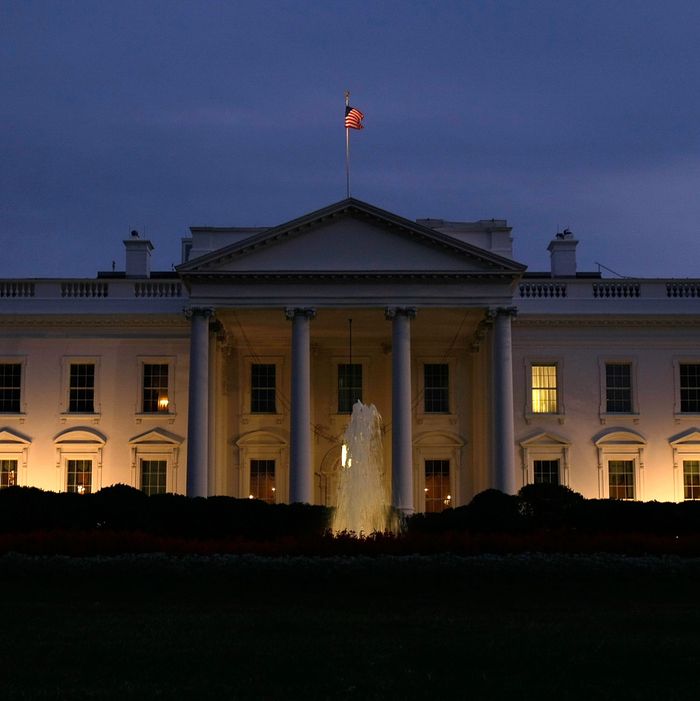 If no one's using it, this would make a nice Trump hotel.
Photo: Alex Wong/Getty Images
The White House moved forward with its effort to drastically reduce the size of the federal government this week, directing agencies to produce a plan to reduce their personnel. Office of Management and Budget Director Mick Mulvaney told reporters that within a year the executive branch would be dramatically different, leaner, and more efficient. "Really what you're talking about doing is restructuring Washington, D.C.," Mulvaney said. "That is how you drain the swamp."

The changes outlined in a 14-page memo issued by Mulvaney were based on the budget outline President Trump released last month, which called for sharp cuts to many agencies to finance large increases in military and Homeland Security spending. Many were taken aback by Trump's proposal to slash funding for agencies like the EPA, State Department, and Health and Human Services, and eliminate many smaller programs like the Corporation for Public Broadcasting and the National Endowment for the Arts.
But if anyone has even more radical ideas, the White House is all ears.
In a post on whitehouse.gov this week, Mulvaney explained that the Trump administration can't win its war on stacks of paper without help from the American people:
The video is followed by a survey that asks Americans to select government departments they'd like to reform, as well as any agencies they would like eliminate – and they mean any agency.
There are all the options you'd expect, like the Department of Commerce, the Department of Education, and the, um, third one. But nothing is sacred when it comes to "draining the swamp"; you can also select everything from the Department of Defense to the Social Security Administration to the United States Holocaust Memorial Museum. Even the White House itself may be on the chopping block: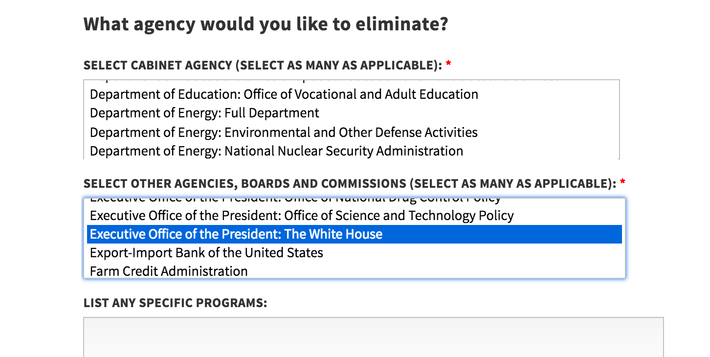 This could be interpreted to mean that the president gets to conduct all government business from his or her exclusive Florida resort, so just to be safe, you might want to click "Executive Office of the President: Full Department."
Submissions will be accepted through June 12. If you still haven't gotten over the 2016 election, now's your chance to live in a parliamentary democracy.