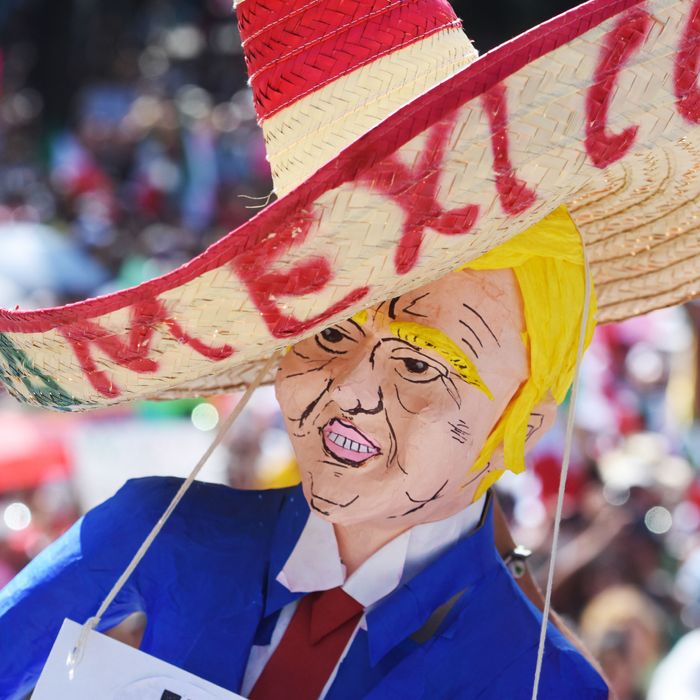 Piñata exporters beware.
Photo: Carlos Tischler/NurPhoto via Getty Images
The White House's globalists may be cucked. For much of the past month, as Steve Bannon's stock slid and Jared Kushner's rose, the president began toeing the swamp's line on trade and foreign affairs: China ceased to be a currency manipulator; the administration leaked relatively modest ambitions for reforming the North American Free Trade Agreement (NAFTA); NATO became the opposite of obsolete; and protecting Syrian babies against chemical weapons became a "vital" national-security interest of the United States.
But this week, Trump made America nationalist again — slapping tariffs on Canadian softwood lumber; threatening to take similar action against Ottawa's high-protein milk; giving Commerce Secretary Wilbur Ross the green light to investigate the trade abuses of foreign steel and aluminum exporters; and, now, preparing an executive order that would signal America's intent to withdraw from NAFTA.
As the Washington Post reports:

President Trump is seriously considering signing a document within days that would signal his intent to withdraw the United States from the North American Free Trade Agreement within six months, three people familiar with the matter said…Signing the document does not require Trump to withdraw from NAFTA after six months, but it is a required step if he plans to eventually do so. The White House is expected to soon take a separate step by signing a letter to Congress that would notify lawmakers of the administration's intention to renegotiate NAFTA.
It's hard to imagine that this is anything more than a negotiating tactic. NAFTA has been the foundation of trade relations on the North American continent for 23 years. Pulling out altogether would create so much economic uncertainty — and opposition from within the GOP and corporate America — it's almost unthinkable that the White House would go through with it.
Last week, President Trump threatened to shut down the government if Congress didn't fund his border wall. He then backed down amid opposition from his own party. Trump's NAFTA threat seems likely to follow a similar trajectory.
Nonetheless, the mere threat of such disruptive action is enough to move markets and sour diplomatic relations. Mexico's peso and the Canadian dollar have already taken a hit on today's reports.