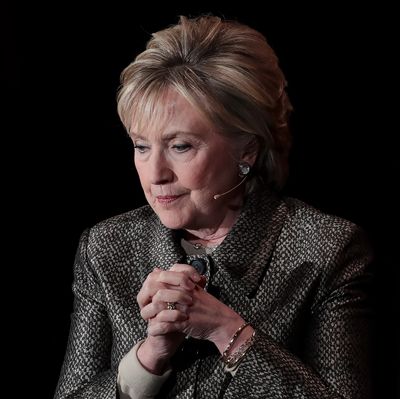 Hillary Clinton pauses during an interview with Nicholas Kristof at the Women in the World Summit on April 6 in New York.
Photo: Drew Angerer/Getty Images
I've done what I could in this space to avoid the subject of Hillary Clinton. I don't want to be the perennial turd in the punchbowl. I'd hoped we'd finally seen the last of that name in public life — it's been a long quarter of a century — and that we could all move on. Alas, no. Her daughter (angels and ministers of grace defend us) seems to be positioning herself for a political career. And Clinton herself duly emerged last week for a fawning, rapturous reception at the Women in the World conference in New York City. It simply amazes me the hold this family still has on the Democratic Party — and on liberals in general. The most popular question that came from interviewer Nick Kristof's social-media outreach, for example, was: "Are you doing okay?" Here's Michelle Goldberg: "I find myself wondering at odd times of the day and night: How is Hillary? Is she going to be all right?" Seriously, can you imagine anyone wondering the same after Walter Mondale or Michael Dukakis or John Kerry blew elections?
And everywhere you see not an excoriation of one of the worst campaigns in recent history, leading to the Trump nightmare, but an attempt to blame anyone or anything but Clinton herself for the epic fail. It wasn't Clinton's fault, we're told. It never is. It was the voters' — those ungrateful, deplorable know-nothings! Their sexism defeated her (despite a majority of white women voting for Trump). A wave of misogyny defeated her (ditto). James Comey is to blame. Bernie Sanders's campaign — because it highlighted her enmeshment with Wall Street, her brain-dead interventionism and her rapacious money-grubbing since she left the State Department — was the problem. Millennial feminists were guilty as well, for not seeing what an amazing crusader for their cause this candidate was. And this, of course, is how Clinton sees it as well: She wasn't responsible for her own campaign — her staffers were. As a new book on her campaign notes, after Clinton lost the Michigan primary to Sanders, "The blame belonged to her campaign team, she believed, for failing to hone her message, energize important constituencies, and take care of business in getting voters to the polls." So by the time the general-election campaign came round, they'd fix that and win Michigan, right?
In case you forgot just how somewhat unhinged the 2016 election was.
Let us review the facts: Clinton had the backing of the entire Democratic establishment, including the president (his biggest mistake in eight years by far), and was even married to the last, popular Democratic president. As in 2008, when she managed to lose to a neophyte whose middle name was Hussein, everything was stacked in her favor. In fact, the Clintons so intimidated other potential candidates and donors, she had the nomination all but wrapped up before she even started. And yet she was so bad a candidate, she still only managed to squeak through in the primaries against an elderly, stopped-clock socialist who wasn't even in her party, and who spent his honeymoon in the Soviet Union. She ran with a popular Democratic incumbent president in the White House in a growing economy. She had the extra allure of possibly breaking a glass ceiling that — with any other female candidate — would have been as inspiring as the election of the first black president. In the general election, she was running against a malevolent buffoon with no political experience, with a deeply divided party behind him, and whose negatives were stratospheric. She outspent him by almost two-to-one. Her convention was far more impressive than his. The demographics favored her. And yet she still managed to lose!
"But … but … but …" her deluded fans insist, "she won the popular vote!" But that's precisely my point. Any candidate who can win the popular vote by nearly 3 million votes and still manage to lose the Electoral College by 304 to 227 is so profoundly incompetent, so miserably useless as a politician, she should be drummed out of the party under a welter of derision. Compare her electoral college result with Al Gore's, who also won the popular vote but lost in the Electoral College: 271 to 266. For that matter, compare hers with John Kerry's, who lost the popular vote by 1.5 percent — 286 to 241. She couldn't even find a halfway-decent speechwriter for her convention speech. The week before the election, she was campaigning in Arizona, for Pete's sake. And she took off chunks of the summer, fundraising (at one point, in the swing states of Fire Island and Provincetown). Whenever she gave a speech, you could hear the air sucking out of the room minutes after she started. In the middle of an election campaign, she dismissed half of the Republican voters as "deplorable." She lost Wisconsin, which she didn't visit once. I could go on.
And so I find myself wondering at odd times of the day and night: Why is Trump in the White House? And then I remember. Hillary Clinton put him there.
Every day, the incoherence deepens: He's going to cover "everyone," but he's going to push 24 million people off their health insurance. He's going to wipe out the debt, but his tax cuts and spending spree will add trillions to it. He's never going to intervene in Syria, but he just did. He's going to get Mexico to pay for a big, beautiful wall, but he isn't. China is a currency manipulator, but it isn't. The media is the enemy of the people, but he is on the phone with them every five minutes and can't stop watching CNN and reading the New York Times. He's going to be a tightwad with taxpayers' money, unlike Obama, but his personal travel expenses are on track to be eight times more than his predecessor's. He's going to work relentlessly for the American people but he spends half his days watching cable news. We've got to be "very, very tough" in foreign affairs, but when he sees dead babies on TV, he immediately calls General Mattis and lobs 59 Tomahawk missiles. He has a secret plan to defeat ISIS, but pursues Obama's strategy instead. He is for the "forgotten men and women" of America, but his tax plan — which is itself changing all the time — benefits the superrich and depends on removing health insurance for the working poor. He wants to be friends with Russia, but he doesn't. He's going to challenge China's policy on Taiwan, but he isn't. He is against crony capitalism, but he is for it. He's going to keep the focus on America, but just upped the ante in Yemen and Afghanistan. He's a deal-maker, but he cannot make deals even with his own party. He's a great manager, but his White House is consumed with in-fighting and he cannot staff his own administration. He's a populist who stacks his cabinet with Goldman Sachs alums. He's going to pressure China to take on North Korea, but "after listening for ten minutes" to China's dictator, he changes his mind.
I could go on. You can try to argue that Trump has simply pivoted to the center, like so many other presidents before him. But the statements he has made in just the last six months, and the policies he has pursued for the last three, have gyrated so wildly, have so little consistency, and make so little sense that there is no assurance that in another three months, he won't be back where he started, or somewhere even more clusterfucked.
What on earth is the point of trying to understand him when there is nothing to understand? Calling him a liar is true enough, but liars have some cognitive grip on reality, and he doesn't. Liars remember what they have said before. His brain is a neural Etch A Sketch. He doesn't speak, we realize; he emits random noises. He refuses to take responsibility for anything. He can accuse his predecessor and Obama's national security adviser of crimes, and provide no evidence for either. He has no strategy beyond the next 24 hours, no guiding philosophy, no politics, no consistency at all — just whatever makes him feel good about himself this second. He therefore believes whatever bizarre nonfact he can instantly cook up in his addled head, or whatever the last person who spoke to him said. He makes Chauncey Gardiner look like Abraham Lincoln. Occam's razor points us to the obvious: He has absolutely no idea what he's doing. Which is reassuring and still terrifying all at once.
One can't help but wonder if the evidence in the above video is proof Trump simply doesn't like his new job at all.
Do you know the real reason Dr. Dao was so brutally tackled and thrown off that United flight? It was all about white supremacy. I mean, what isn't these days? That idea is from the New Republic. Yes, the cops "seemed" to be African-American, as the author concedes, so the white-versus-minority paradigm is a little off. Yes, this has happened before to many people with no discernible racial or gender pattern. Yes, there is an obvious alternative explanation: The seats from which passengers were forcibly removed were randomly assigned. New York published a similar piece, which argued that the incident was just another example of Trump's border-and-immigration-enforcement policies toward suspected illegal immigrants of color. That no federal cops were involved and there is no actual evidence at all of police harassment of Asian-Americans is irrelevant — it's all racism, all the time, everywhere in everything.
It's easy to mock this reductionism, I know, but it reflects something a little deeper. Asian-Americans, like Jews, are indeed a problem for the "social-justice" brigade. I mean, how on earth have both ethnic groups done so well in such a profoundly racist society? How have bigoted white people allowed these minorities to do so well — even to the point of earning more, on average, than whites? Asian-Americans, for example, have been subject to some of the most brutal oppression, racial hatred, and open discrimination over the years. In the late 19th century, as most worked in hard labor, they were subject to lynchings and violence across the American West and laws that prohibited their employment. They were banned from immigrating to the U.S. in 1924. Japanese-American citizens were forced into internment camps during the Second World War, and subjected to hideous, racist propaganda after Pearl Harbor. Yet, today, Asian-Americans are among the most prosperous, well-educated, and successful ethnic groups in America. What gives? It couldn't possibly be that they maintained solid two-parent family structures, had social networks that looked after one another, placed enormous emphasis on education and hard work, and thereby turned false, negative stereotypes into true, positive ones, could it? It couldn't be that all whites are not racists or that the American dream still lives?