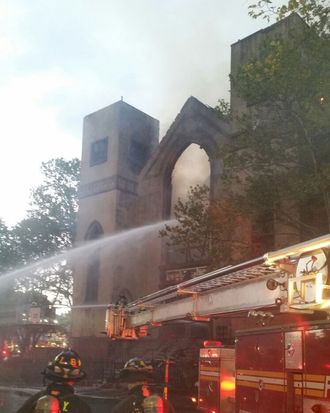 Fire at Beth Hamedrash Hagodol.
Photo: FDNY/Twitter
A 14-year-old boy has been arrested and charged with third-degree arson for allegedly igniting a massive fire Sunday night at the historic Beth Hamedrash Hagodol synagogue on the Lower East Side, reports the New York Post.

Authorities suspected that the three-alarm fire had been started intentionally after reviewing surveillance footage that reportedly showed three "kids" running away from the scene before the inferno erupted. A witness also reportedly told FDNY officials that he saw people running from the synagogue. Police are still looking to question the other two teens who appear on the video, but no other charges have been brought at this time. Authorities also said they are not investigating the arson as a hate crime.
The three-alarm fire that ripped through the historic Beth Hamedrash Hagodol synagogue on Sunday night tore down the roof and turned the upper stories of the more-than-150-year-old Lower East Side landmark to rubble.
The synagogue had been left vacant for the last decade, but it had been the worship site for the city's oldest Orthodox Russian-Jewish congregation since the late 1880s, though the actual structure dates back to 1850. The Lo Down reported that people in the neighborhood have seen kids coming and going from the synagogue over the past few weeks; allegedly a small fire broke out there last week.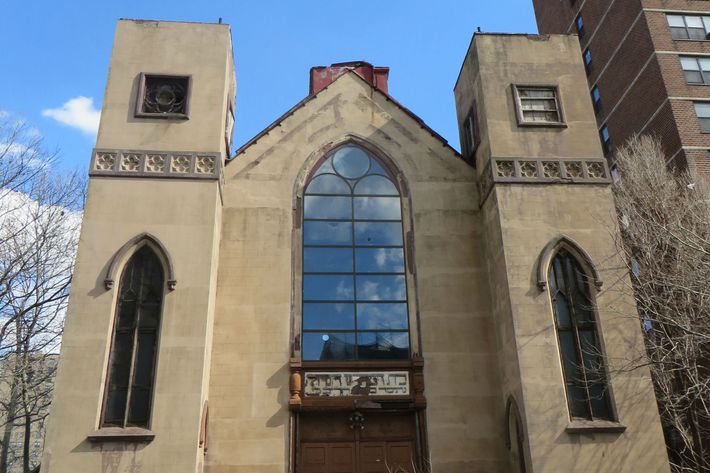 The Beth Hamedrash Hagodol synagogue achieved landmark status in 1967. The synagogue closed in 2007, and in 2012 Rabbi Mendl Greenbaum filed, and later withdrew, a hardship application with the Landmark Preservation Commission that would have allowed the congregation to tear down the building and replace it with a new structure that would include condos, reports the New York Daily News. Greenbaum told the Lo Down he was supposed to meet with the Landmarks Preservation Commission this week about plans to restore and redevelop the structure after years of trying (and failing) to find a developer for the multimillion-dollar project. The Department of Buildings is also investigating the fire, and will evaluate the state of the site, but besides some of the building's façade and a basement, which contains a library, the insides of the synagogue were completely gutted by the flames.