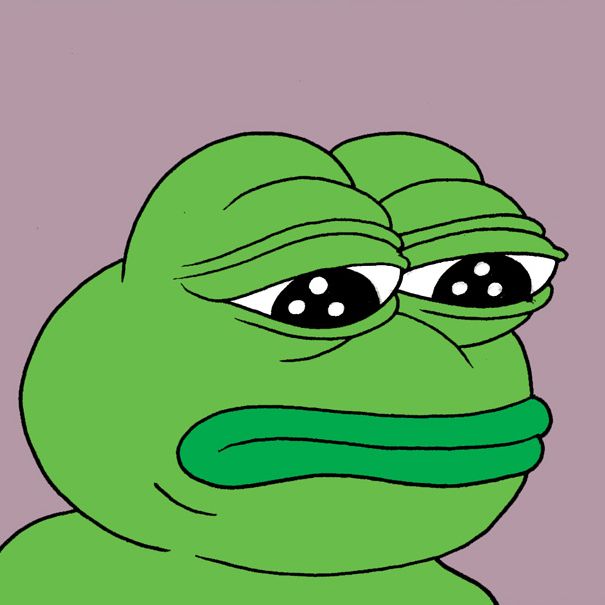 Pepe the Frog in one of his last known photographs.
Illustration: Matt Furie
Friends, stoners, netizens, lend me your ears — for today, we mourn a misunderstood friend. Just a few days ago, Pepe the Frog shimmied off this mortal coil and hopped up to the big lily pad in the sky.
Before I go any further, I'd like to thank you all for joining us here today. Pepe wasn't one for pageantry, but in his final days, he asked for this small ceremony — one open only to his friends, and closed to the hateful so-called admirers who had taken to using his image in ways that disgusted our green-toned compatriot. Unfortunately, they're currently chanting and carrying disgusting images outside this very funeral parlor, but let us try to drown out their hatred with our love.
Though Pepe fought bravely and happily, he lost his years-long fight with the cancer of bigotry and misappropriation with which these people had infected him. But take heart, for he passed while smoking an epic spliff, surrounded by his dearest friends: Andy, Brett, and Landwolf, all of whom were kind enough to join us today. He was 12 years old, but in frog years, he was basking in the warm light of his early 20s, blissfully eschewing the responsibilities of true adulthood. We weep for him, and at this point in the service, I invite you all to fulfill Pepe's wishes by sparking up the joints we have provided for all of you.
For those of you who didn't know Pepe as well as some of us did, I'll provide a bit of biography. Pepe was born in 2005 on the MySpace page of his father, the cartoonist Matt Furie, who also joins us today and asked me to tell you, "It's just a comic." Matt had high hopes for his boy, placing him alongside his other offspring — the aforementioned Andy, Brett, and Landwolf — in a webcomic called Boy's Club. The home that Matt built for his children was a loving one, in which the four lads lived together and did … well, not much of anything. They ate; they gamed; they modeled; they shat; they baked; they vegged out.
But perhaps most important, they peed. Pepe was fond of a particular mode of urination, one in which he drew down his shorts and made water while standing in front of the toilet bowl. If you ever asked him why, he had a simple answer for you: "Feels good man." No comma. Somehow, the residents of the infamous message board 4chan.org/b/ learned of Pepe's unusual habit and, around 2008, began to rally around that image and motto. They — and, for some reason, the users of a bodybuilding forum — spread the word of Pepe far and wide, adapting his beautiful face into various forms. As years passed, a cult of Pepe emerged, one in which he was held in rare esteem.
At first, Pepe was pleased with this development, or at least unbothered by it. After all, he wanted us all to feel good, man, and it seemed that his image was doing just that. But at some point, a decision was made in the far-off city of Shitpostia, where blizzards of unsettling ephemera perpetually obscure one's sight. Sometime before late 2015, nameless members of that burg's right wing determined that Pepe belonged to them. Some say it was because the Nazis among them associated him with a god named Kek; some say it was simply random selection. Whatever the motivation, these people began to put the gentle amphibian into images of unspeakable hatred and vicious denigration.
The Shitposters also associated him with a man whose name I will not mention here, per Pepe's request: the current president of the United States of America. They would put Pepe's face onto that of the man in some bizarre form of tribute, perhaps. On October 13, 2015, something shocking occurred: That man, still a candidate, retweeted one such image. Less than a year later, the man's son did the same. Pepe, though generally apolitical, was unsettled, as were many of us. He was more famous than he'd ever been, but his fame shaded into infamy.
Soon, countless people of the left and center became acquainted with Matt's son only in the context of hatred. On Pepe's darkest day, September 27, 2016, the Anti-Defamation League declared that this wonderful frog — who had dedicated his life to fun, frivolity, and a kind of chemically altered agape — was an icon of hatred as foul as the swastika and the burning cross. Though Pepe's father was able to work with the ADL to help rehabilitate his son's image, it was too late. He had been overtaken by the malady of malice. Matt — poor Matt — told the world of how sick Pepe was, but the outpourings of love, and even his appearance in the best comic of 2016, weren't enough to turn the tide.
Matt felt he had no choice but to help end his son's pain. He pulled the proverbial plug and allowed Pepe to die. Though his death was quiet and unseen, in the pages of a comic released by his publisher, Fantagraphics, on May 6's Free Comic Book Day, Matt revealed that his beloved progeny had passed. Landwolf — I see you there, buddy; it's okay to cry — poured one out for his fallen friend in the slightly gross manner that he would've wanted. Pepe's story has come to an end.
It is, of course, somewhat infuriating that Pepe died with such a horrible reputation. That reputation has not left us, as his images will long outlast him. But let us commit ourselves to one simple task: making sure his legacy is not solely one of hatred. He had the kind of visual mutability and semiotic relatability that few drawings ever have. He acted out tales of comfort and joy. He was not just a meme, Goddamn it. Pepe, little buddy, you deserved better than the alt-right. As Matt once told me, "Pepe is life." Though life may have left him, let us not allow his message — the one he wanted to deliver — to leave our lives. Amen.