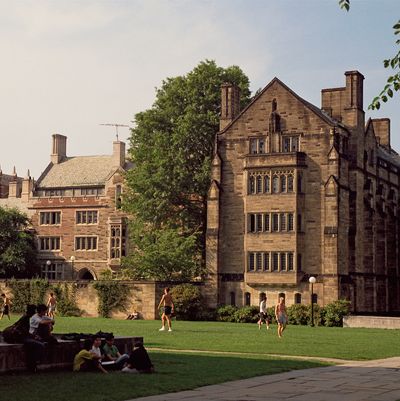 Yale.
Photo: Robert Holmes/Getty Images
The dean of a residential college at Yale has been put on leave after her inflammatory Yelp reviews caused a stir among students at the university.
In a handful of reviews, first reported on by the Yale Daily News, written over the course of the last couple years, the dean, June Chu, referred to "white trash," "low class folks," and "idiots." In a positive review for a movie theater, she said she "loved the small theater feel without the sketchy crowds (despite it being in new haven)." In another theater review, she refers to the employees as "barely educated morons" and customers as "the obese."
Chu apologized when the reviews first made their way around campus. "I have learned a lot this semester about the power of words and about the accountability that we owe one another," she wrote in an email to students. "My remarks were wrong. There are no two ways about it. Not only were they insensitive in matters related to class and race; they demean the values to which I hold myself and which I offer as a member of this community."
Less than a week later, when her superiors found out she had misled them about the number of "reprehensible" reviews written, Chu was put on leave.
"Let me be clear," Pierson College head Stephen Davis wrote. "No one, especially those in trusted positions of educating young people, should denigrate or stereotype others, and that extends to any form of discrimination based on class, race, religion, age, disability, gender identity, or sexual orientation."