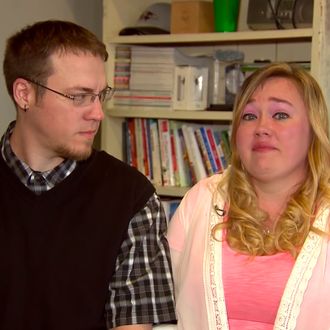 Heather and Mike Martin are the adults behind YouTube's DaddyOFive.
Last week, Mike Martin and his wife, Heather, faced flak after the YouTube community exposed some of their videos as being potentially abusive to the Martins' children. Mike Martin is known on YouTube as the DaddyOFive channel, where he and Heather racked up over 750,000 followers with videos of their day-to-day lives as a blended family. (The five kids are Emma and Cody, Martin's children from a previous marriage, and Heather's three sons.) But in between harmless content were videos in which Martin would play "pranks" on Cody. (Cody is also the youngest of the five children.) Videos ranged from Martin smashing Cody's Xbox with a hammer (he would later show his son that it had been a different Xbox), to convincing Cody that he was being adopted out of the family for his bad behavior, to cursing at him for spilling ink — which, naturally, Heather and Mike had actually spilled — on his bedroom floor. In several of the videos, Cody can be seen crying and seems to be visibly, and understandably, upset by what has happened. Today, Cody's biological mother, Rose Hall, announced — also via YouTube video — that she has been granted emergency custody of both of her children, and has removed them from the Martins' home in Maryland.
Hall, seated beside her attorney, says her two children are "doing good" and "getting back to their playful selves." She also says that convincing Cody to come with her was a struggle, as the boy had been told, ostensibly by Mike and Heather Martin, that she did not love or want him anymore. At the end of the 13-minute video, Hall thanks several YouTubers — including Phil DeFranco, a YouTuber who posted an exposé video earlier this spring about DaddyOFive's pranks — for helping to get her children out of a dangerous situation. Hall previously had custody of Cody and Emma up until 2014, when she says that they were illegally taken from her after the Martins forged paperwork.
As for Mike and Heather Martin, their YouTube channel has been scrubbed, save for a single apology video posted last week. In it, the couple tearfully apologizes for making "terrible parenting decisions," and says they are in family counseling. The Martins had previously denied any of their videos were abusive. "All information will be presented to the court at the appropriate time," the Martin family's attorney told the BBC when asked for a comment on the current situation.