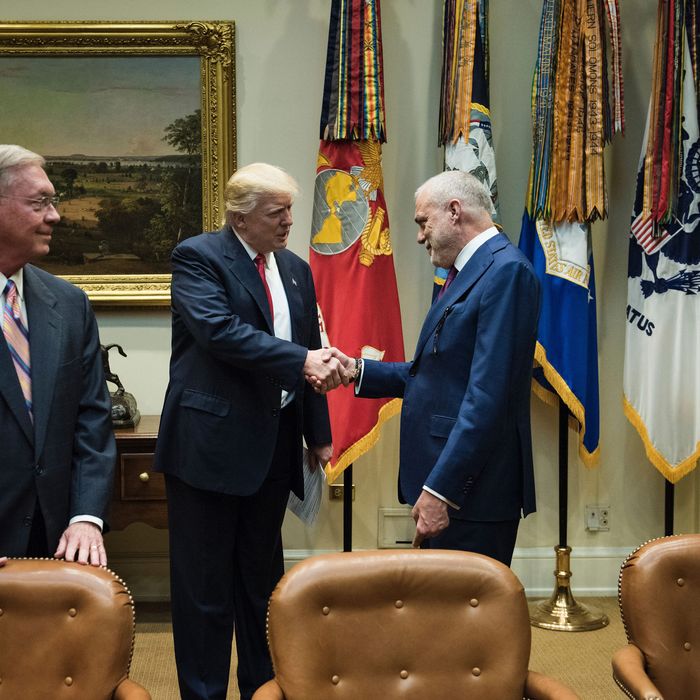 Trump with Aetna CEO Mark Bertolini.
Photo: Brendan Smialowski/AFP/Getty Images
Obamacare appears set to (once again) escape the reach of Paul Ryan's sledgehammer — but faithless insurers continue to dig tiny knives into the law's marketplaces.
Last year, Aetna drastically scaled back its participation in the Affordable Care Act, after finding itself unable to turn a profit off of covering the disproportionately sick (and, thus, expensive) customers who flocked to the law's health exchanges. After providing coverage in 11 states' individual marketplaces at the start of 2016, Aetna retained its presence in just four this year. (The insurer's decision to scale back its participation may also have been influenced by the Obama administration's refusal to green-light its desired merger with Humana.)
In 2018, Aetna will cut that figure to three. As The Wall Street Journal reports:
Aetna said it expects 2017 losses on its individual business will amount to roughly half its loss last year, which was $450 million. Its individual enrollment is 255,000, down from about 964,000 at the end of 2016, but the first-quarter total was larger than it had expected, and Aetna's chief financial officer, Shawn M. Guertin, said the company was seeing "higher cost levels than we had previously projected" among enrollees…Aetna has said it would pull out of Iowa's ACA marketplace in 2018, and its remaining states are Delaware, Nebraska and Virginia. According to the Kaiser Family Foundation, Aetna isn't the sole exchange insurer in any of its regions.
Aetna's decision comes three months after Humana announced that it would be withdrawing completely from the ACA marketplaces, and amid uncertainty about the law's future. The Trump administration has repeatedly threatened to cut off federal payments that subsidize the purchase of health insurance for low-income Americans. Some insurers have warned that such a move would cause giant premium spikes, while others have said that the loss of the so-called "cost-sharing payments" would force them to exit the exchanges.
Still, while Obamacare could certainly be strengthened by a whole host of reforms (and/or replaced by good old-fashioned socialized medicine), the law's marketplaces are not in a "death spiral," despite the GOP's fondest wishes. And even as Humana and Aetna pull back, other insurers are looking to expand into new state exchanges — barring acts of Trumpian sabotage, anyway.