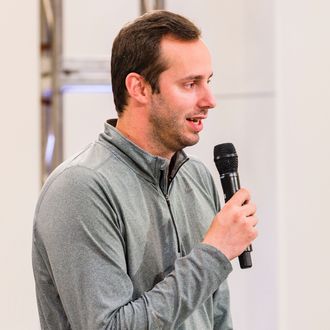 Anthony Levandowski.
Photo: Angelo Merendino/AFP/Getty Images
Amid the lawsuit being brought against Uber by Google-owned self-driving-car company, Waymo, Uber today informed its employees that the company is parting ways with the engineer at the heart of the case. Anthony Levandowski — who allegedly stole data from Google and brought it to Uber in 2016, after leaving Google himself — has been terminated effective immediately, as first reported by the New York Times earlier Tuesday.

From Uber's email to employees, via the Times:
Over the last few months Uber has provided significant evidence to the court to demonstrate that our self-driving technology has been built independently. Over that same period, Uber has urged Anthony to fully cooperate in helping the court get to the facts and ultimately helping to prove our case.
Levandowski's career at Uber has been marred by drama in recent weeks. While the Waymo suit does not directly involve him, he voluntarily removed himself — or the company voluntarily removed him — from all projects related to LiDAR (the allegedly stolen technology) this April. When a federal judge ordered Levandowski to testify, he declined, invoking the Fifth Amendment. This action prompted Uber's legal team to send Levandowski a letter earlier this month. If Levandowski did not "do everything" possible to help Uber comply with the judge's orders, the company would be forced to take action. "If you do not agree to comply with all of the requirements set forth herein, or if you fail to comply in a material manner, then Uber will take adverse employment action against you, which may include termination of your employment," the letter read. Clearly, based on today's news, the company went with the most extreme option it proposed. Uber, by court order, has until the end of the month to return all of Waymo's intellectual property.