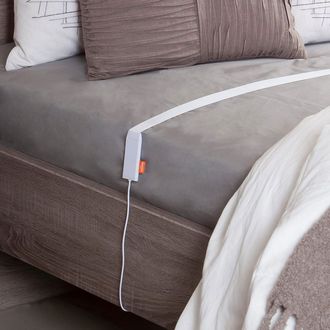 Apple has been selling Beddit products for several years now.
Photo: Courtesy of Beddit
Apple is getting into bed with Beddit, a Finnish sleep-tracking company founded in 2007. The company makes devices that, once strapped across your mattress, work with iOS phones and Apple Watches, and monitor sleep quality — including heart rate, snoring, and breathing. Terms of the Beddit acquisition have not been made public, according to CNBC.
Beddit products have been on sale in Apple stores since 2015. The company's latest product, the Beddit 3 Sleep Monitor, retails for $149. Now, as per an updated privacy policy on Beddit's website, "personal data will be collected, used and disclosed in accordance with the Apple Privacy Policy." (Heads up, Tim Cook. I snore.) Health data will also be given to Apple, according to the new policy. The move makes sense for Apple, given that the company has been reportedly trying to get into the sleep market for some time now. Putting Beddit under its corporate umbrella means Apple doesn't have to spend the time developing its own tracking products from scratch. After news of the acquisition broke, Beddit reportedly removed links on its website that previously directed to Beddit's Apple Watch apps.