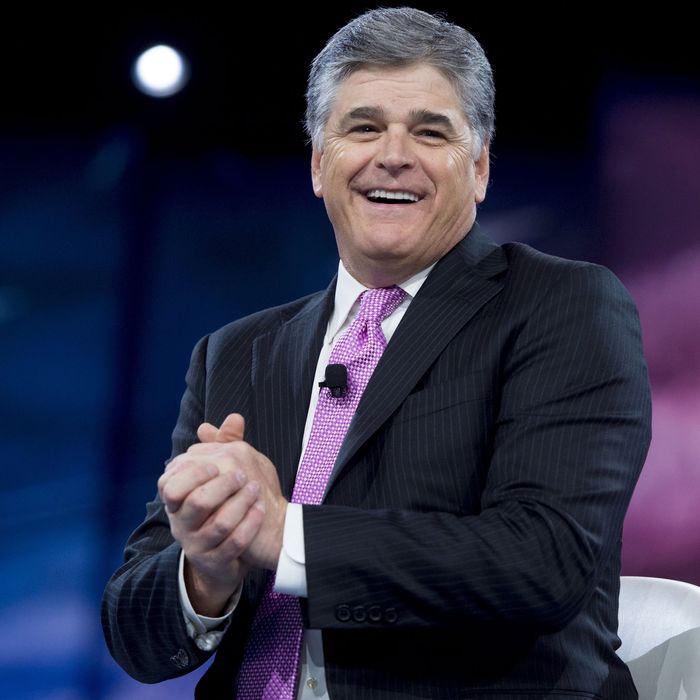 Sean Hannity.
Photo: Saul Loeb/AFP/Getty Images
Sean Hannity's obsession with a conspiracy theory about the murder of a former DNC staffer has led at least seven advertisers to flee his Fox News show this week. Now Hannity is fleeing too.
On Wednesday night he announced that his Memorial Day weekend would be starting early.
In a statement, Fox News said Hannity will be back Tuesday. "Those who suggest otherwise are going to look foolish," the statement said.
If all of this sounds familiar, it's because it is. On April 11, amid a sexual-harassment scandal and advertiser boycott, Bill O'Reilly went on vacation too. He also swore up and down that he'd be back when the trip was over. Just over a week later, he was fired.
But Hannity hasn't yet hemorrhaged as many advertisers as O'Reilly did. But the tally is starting to add up as Hannity has refused to let go of the theory linking the murder of Seth Rich to DNC emails that were leaked to WikiLeaks. Only after Rich's family begged the media to stop pushing conspiracies and FoxNews.com retracted a story on the subject did Hannity agree to drop it, "for now."
But for many advertisers the damage had been done. Cars.com was the first to announce it would suspend ads on Hannity's show.
The website was followed by at least six advertisers, including the mattress companies Leesa and Casper, exercise bike manufacturer Peloton, the Ring video doorbell, USAA, and Crowne Plaza Hotels.