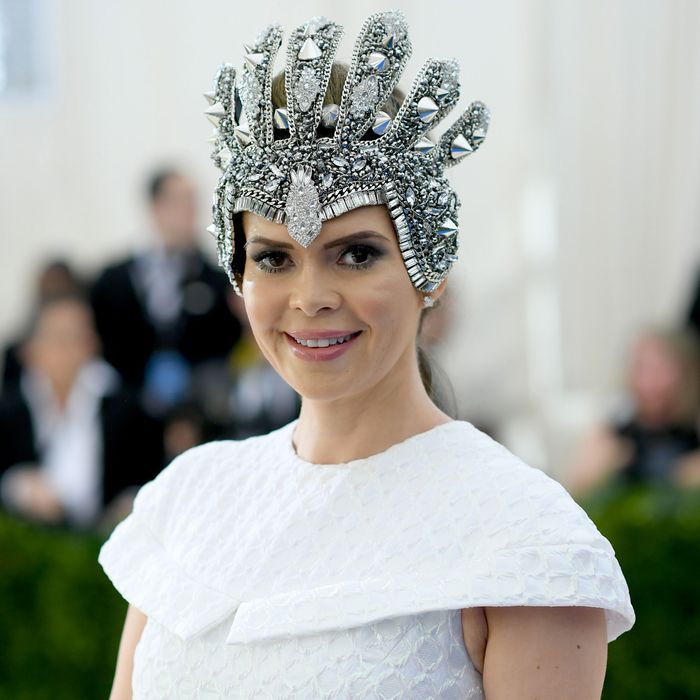 Carly Steel at the 2017 Met Gala.
Photo: Dimitrios Kambouris/Getty Images
On Monday night, Entertainment Tonight correspondent Carly Steel walked the red carpet at the Met Gala wearing a white dress by Christian Siriano and a bejeweled headpiece. At one point, spotting Tom Brady and Gisele Bündchen kissing nearby on the red carpet, Steel made a funny face. Here's a tweet about it from BuzzFeed's Jarett Wieselman.
That was … pretty much it. She made a face; one person on Twitter took notice; his tweet went minorly viral. Meanwhile, actual memes were being made at the event, like Helen Lasichanh, wife of Met Gala 2017 co-host Pharrell Williams, whose Comme des Garçons look inspired many a listicle.
But for some reason, days later, we are still hearing about Steel's allegedly meme-inspiring look. On Twitter, ET crowed about Steel's "amazing crown that launched 1,000 memes." And Time ran a short piece online profiling Steel, "Sparkly Woman's Reaction to Tom Brady Kissing Gisele Bündchen at the Met Gala Stole the Show." People would later syndicate this piece, proclaiming Steel "the Woman in a Glittery Crown Who Went Viral at the Met Gala." Viral. VIRAL. Both pieces include the same tweet from Wieselman, which to date has 700 retweets and just shy of 2,500 faves. These numbers, friends, do not a viral meme make. However, in a beautiful twist, the aftermath of Steel's faux virality has actually turned her into a viral meme. Almost 80,000 people have retweeted a call asking for people to share the tweet if they never saw a single Steel meme.