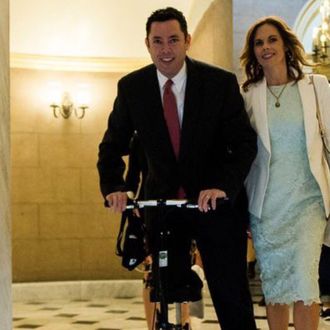 Jason Chaffetz scootering his way to today's health-care vote.
Photo: @BenMarter/Twitter
Earlier today, the House of Representatives voted in favor of the American Health Care Act. Among the voters was Jason Chaffetz, a representative from Utah — the one who said people should stop buying new iPhones to pay for their health care — who had arrived in Washington riding a knee scooter following surgery on his right ankle. (Chaffetz's ankle, as a reminder, would qualify as a preexisting condition under Trumpcare and enable his insurer to deny him care.) Wheels under his foot and a grin on his face, Chaffetz rolled up to cast his vote. And became an ironic meme in the process.
Now, just picture him scooting out of the vote serenaded by a chorus of Democrats singing "Na Na Na Na, Hey Hey-ey, Good-bye," as a taunt regarding the 2018 midterm elections. Chaffetz, however, has said he won't seek reelection.