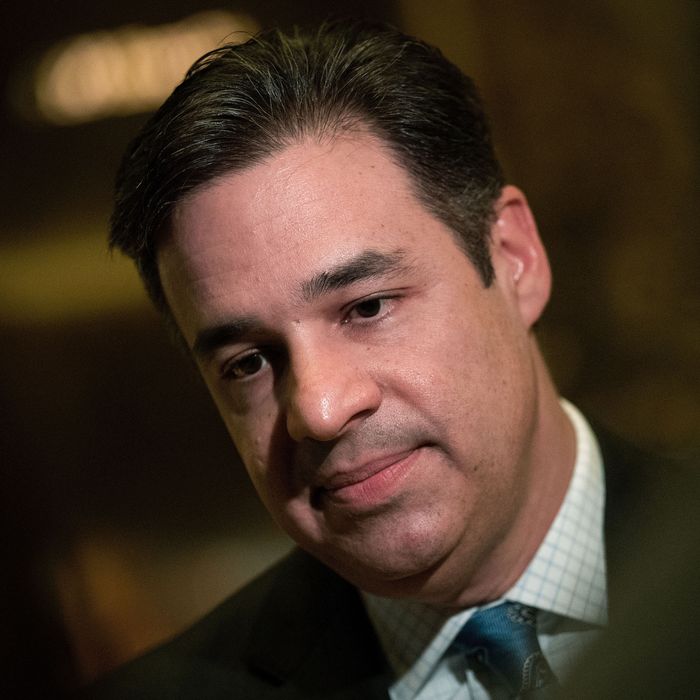 Labrador will not let his widely mocked comments about health insurance hold him back.
Photo: Drew Angerer/Getty Images
Just days after getting booed at a town hall meeting after he told the crowd "nobody dies without health care," conservative Idaho congressman Raul Labrador has announced that he plans to run for Idaho's governorship in 2018.
Labrador is a founding member of the Freedom Caucus, who joined the House in the 2010 tea-party wave. He has a decent résumé obstructing legislation, though he recently got onboard with the American Health Care Act, despite initial opposition. Labrador said he would make a more public announcement about his gubernatorial run in the coming weeks, but said in a statement that "Idaho needs a proven conservative leader who will stand against the special interests and politicians that have picked the winners and losers in our state Capitol for too long."
Labrador will face, according to the Washington Post, a somewhat crowded GOP primary field that includes Lieutenant Governor Brad Little; a former state senator; and a Boise businessman. The lone Democratic candidate is a homeless man in jail.
The Idaho lawmaker is still dealing with the fallout from his town-hall comment, which he made in response to a woman who told the representative that because of his health-care vote, "You are mandating people on Medicaid to accept dying." Labrador, who later admitted his comments were "inelegant," called her statement "indefensible" during the town hall. Here's the full exchange, which is basically a hand-delivered future soundbite for his gubernatorial opponents' political-attack ads: