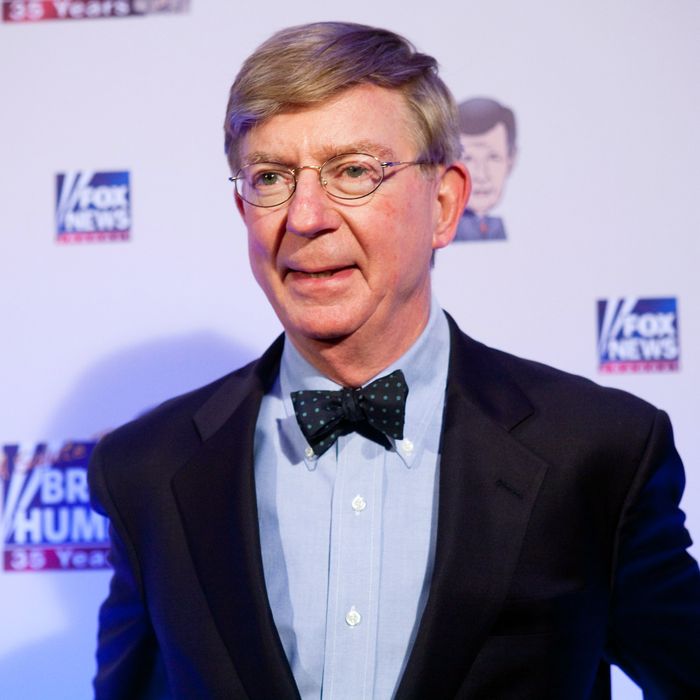 George Will.
Photo: Brendan Hoffman/Getty Images
George Will, a pretentious avatar of bow-tie conservatism who left the Republican Party because of Donald Trump, has signed on to become a contributor with MSNBC and NBC News, Politico reports.
The Washington Post columnist previously worked at Fox News, which declined to pick up his contract in January. He's been popping up on MSNBC ever since and will now call the network home.
Will's hiring follows a New York report that said MSNBC is working with conservative commentator Hugh Hewitt on plans for a weekend show. That news followed the announcement that former George W. Bush aide Nicolle Wallace, a political analyst on MSNBC, will host a weekday show on the network beginning in May. Prior to that, NBC hired Fox News vets Greta Van Susteren and Megyn Kelly.
It's all a part of executive Andy Lack's attempt to "move the cable news network away from its bedrock liberalism and toward a more centrist approach," according to the Huffington Post's Ryan Grim.
Though Will's abhorrence of Trump will go over well with those who spend their evenings with Chris Hayes, Rachel Maddow, and Lawrence O'Donnell, his opinions on topics such as climate change and rape probably won't.