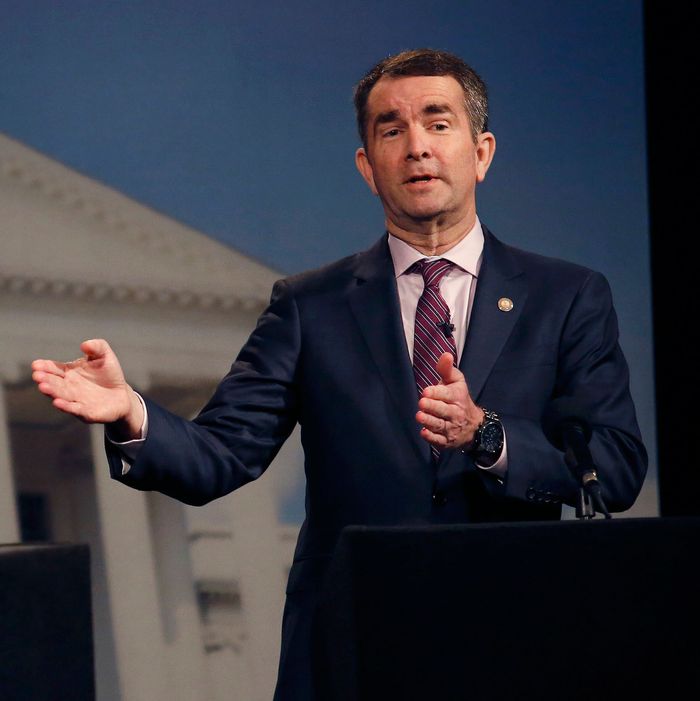 Ralph Northam and Tom Perriello have different styles and different backers, despite very similar views.
Photo: Stephen M. Katz/The Virginian-Pilot via AP
All the attention that has been lavished on special congressional elections this year has made it easy to forget that regularly scheduled off-year elections are on tap as well. In fact, gubernatorial primaries in New Jersey (June 6) and Virginia (June 13) are right on the horizon.
The New Jersey Democratic and Republican races have been relatively sleepy affairs so far, dominated by clear front-runners. The Republican gubernatorial contest in Virginia is also looking like a cakewalk for former RNC chairman Ed Gillespie; the main excitement in that race has been the largely negative reaction to rival Corey Stewart's efforts to wrap himself in endangered Confederate symbols.
But the Democratic contest in the Old Dominion is quite the barn burner, with Lieutenant Governor Ralph Northam and former congressman Tom Perriello locked in a close and unpredictable race that features more differences in style and tone than in issues or ideology.
Northam is a physician and former state legislator who has served as Governor Terry McAuliffe's loyal lieutenant and heir apparent since being elected Lieutenant Governor in 2013. Perriello became instantly famous in 2008 when he won (though he subsequently lost it in 2010) a largely rural congressional district, deploying an old-school economic "populist" message. Northam was expected to win the Democratic gubernatorial nomination virtually by acclamation until Perriello, feeding on anti-Trump sentiment, leaped into the race in January.
Whoever wins the Democratic nod will be favored in November, in part because the president's party has lost the Virginia governorship in nine of the last ten elections. Trump's unpopularity in urban parts of the state won't help Ed Gillespie, either. But as Virginia Democrats know, Gillespie came within an eyelash of pulling off an upset for the ages against Senator Mark Warner in 2014. So anything could happen, but it does appear Democrats ought to be able to come together no matter who gets disappointed on June 13.
National media have tried hard to make this contest a rematch of last year's Clinton-Sanders nomination fight (won by Clinton in a landslide in Virginia), and it's true Bernie Sanders (and for that matter, Elizabeth Warren) have endorsed Perriello, while Clinton intimates Governor Terry McAuliffe and Senator Tim Kaine are for Northam. But to the extent Democratic factions have chosen sides, it's really more of an in-state/out-of-state split. Perriello served in the Obama administration after losing his House seat in 2010, and Obama political operatives have backed his candidacy heavily. Meanwhile Northam locked up the endorsements of nearly every Virginia Democratic heavyweight you can name.
It's not easy, either, to neatly classify the candidates in a "populist versus centrist" frame. Yes, Perriello has always emphasized the economic plight of globalization's "losers," but his overall record in his one term in the House was pretty moderate. Both candidates have committed progressive heresies they have repudiated: Perriello cast pro-gun and anti-abortion votes in Congress, and Northam sheepishly admitted he voted twice for George W. Bush in his pre-political days. In the 2017 campaign itself, Perriello has flatly come out against two controversial natural-gas pipeline projects while Northam has not taken a definitive position.
The biggest difference between the two candidates is more about tone and focus: Northam seems to stand for the traditional Virginia Democratic Party and its constituencies and preoccupations, while Perriello is very much running a campaign fueled by anger at Donald J. Trump.
Because he was the only serious candidate in the race as the year began, Northam has been the front-runner until very recently, with Perriello making steady gains. Only two public polls of likely primary voters have been taken in May: one from PPP showing Northam up 41/31, and one from the Washington Post/George Mason showing Perriello up 40/38.
In the end, it may be geography more than ideology that decides the contest. According to the WaPo/GMU poll, Perriello has a big lead in southwest Virginia, near his former congressional district, while Northam does nearly as well in the Tidewater region (he's from the Eastern Shore of Virginia, and represented part of the Hampton Roads area in the legislature). Perriello also has a modest lead in the Richmond area. But the big shoe still to drop is in Northern Virginia, where roughly 40 percent of the primary vote is likely to be cast. The candidates are currently tied there, but with 36 percent of voters still undecided.
Northam, who banked a lot of money before his rival was even in the race, has outspent Perriello on television in Northern Virginia by a margin of $720,000 to $410,000, though both campaigns seem sure to flood the D.C. media market down the stretch.
You'd think late-breaking D.C.-suburban voters would be more likely to gravitate to Perriello's nationally oriented message than to Northam's down-home pitch. But funny things can happen in this state. In the 2009 Democratic gubernatorial primary two candidates well known in the D.C. area, Terry McAuliffe and Brian Moran, were trounced among late deciders in NoVa by rural legislator Creigh Deeds, who benefited from a Washington Post endorsement and some well-timed statewide ads. So don't bet the farm just yet on either candidate this year.