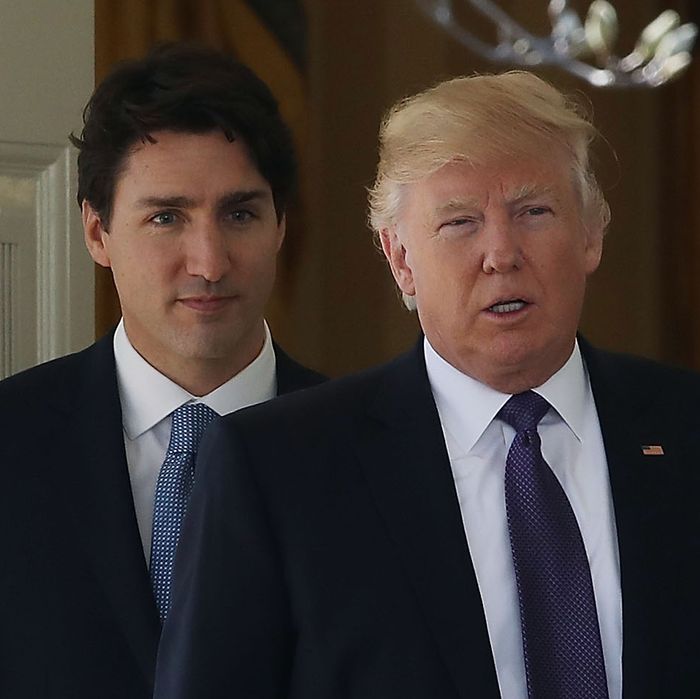 No, you're the puppet.
Photo: Mark Wilson/Getty Images
Late last month, reports emerged that President Trump was about to withdraw from the North American Free Trade Agreement. Just 12 hours later, the White House announced that the U.S., Canada, and Mexico had agreed to renegotiate the trade deal.
The next day, several major news outlets tried to make sense of the dramatic reversal. The president himself shared some concerning details about his process for deciding the fate of a deal that affects millions. "I was all set to terminate," Trump told the Washington Post. "I looked forward to terminating. I was going to do it."
According to the president, his plans changed because his advisers presented a map that showed how termination would affect Trump voters, and he received friendly calls from Canadian Prime Minister Justin Trudeau and Mexican President Enrique Peña Nieto.
"Two people that I like very much, the president of Mexico, prime minister of Canada, they called up, they said, can we negotiate? I said, yes, we can renegotiate," Trump said at a rally in Pennsylvania to mark his 100th day in office. "So we'll start a renegotiation."
On Monday, Canadian outlets reported that the real story might have been even more bizarre. The National Post said White House officials called Canadian officials seeking Trudeau's assistance in convincing their boss to save NAFTA. The Canadian Press identified Jared Kushner as the White House aide who may have rescued the trade deal, while the Associated Press said Ottawa reached out to Trump's son-in-law first. Others have suggested that the entire incident was a mistake, or perhaps an elaborate ruse orchestrated by the White House as a negotiating tactic.
Here's a rundown of the new theories on why the trade deal still exists, though, as the president put it, "I was really ready and psyched to terminate NAFTA."
The White House "Globalists" Enlisted Trudeau to Outmaneuver the Nationalists
Previously, several reports suggested that the confusion emanating from the White House on April 26 was the result of another battle between the West Wing "Democrats" and the Breitbart faction going public. Politico reported that the executive order that would have started the process of withdrawing from NAFTA was crafted by two White House populists, trade adviser Peter Navarro and chief strategist Steve Bannon. More moderate Trump advisers — including Kushner, National Economic Council head Gary Cohn, Agriculture Secretary Sonny Perdue, Commerce Secretary Wilbur Ross, and Secretary of State Rex Tillerson — were said to be scrambling to convince the president not to kill it.
Canadian government sources told The National Post that part of that effort involved White House officials calling them and asking Trudeau to help persuade Trump to renegotiate. The Canadian Press reported that it was Kushner, whose massive portfolio includes relations with Canada, who reached out to our neighbors to the north:
A pair of sources described the chain of events. At about 6 p.m., the senior White House aide contacted a counterpart in Ottawa. The president's son-in-law and adviser called PMO chief of staff Katie Telford, and said: Trump has a free moment, right now, to speak about NAFTA.

He suggested Trudeau might want to call the White House.

Telford veered to a stop. She happened to be in a carpool, commuting with her colleague Gerald Butts. The senior officials pulled over to the side of the road in Tunney's Pasture, an industrial-park-like federal area in west-end Ottawa.

They got in touch with Trudeau, and the prime minister contacted Trump.
Trudeau and Peña Nieto spoke with Trump in the afternoon, and around 7 p.m. the White House put out a statement saying NAFTA would be renegotiated.
"You never know how much of it is theatre, but it didn't feel that way," said a senior Canadian diplomatic source. "Maybe they're just learning how to be a government. At least they were open to the conversation, and that stopped them doing something rash and destructive."
The next day Trudeau described his call with Trump, saying he pointed out that they were both elected because voters felt they would help improve the economy. "Disruption like cancelling NAFTA, even if theoretically [it] eventually might lead to better outcomes, would cause a lot of short- and medium-term pain for a lot of families," Trudeau said.
Kushner Just Set Up a Phone Call
The Canadian Press report fits into the familiar narrative of Kushner or his wife, Ivanka Trump, pulling strings behind the scenes to prevent President Trump from following his worst impulses. However, on Monday, a White House official suggested Kushner was acting more like a high-profile receptionist.
The White House official told the Associated Press that Trudeau aides reached out to Kushner first because they were concerned by the press reports about NAFTA's imminent demise. In this version it sounds like Kushner is deferential to his father-in-law, rather than manipulative:
Kushner told his Canadian counterpart that this was a matter the leaders needed to discuss themselves, according to the White House official, who insisted on anonymity in order to discuss private conversations. The Canadians asked when Trudeau should call. After checking at the White House, Kushner called back to say Trump was ready to talk now.
For what it's worth, in his own brief account of the NAFTA debate, Kushner didn't sound like he was so passionate about the issue that he would go behind the president's back. During his Post interview, Trump asked Kushner to confirm that he was serious about pulling out of NAFTA. "Yeah," Kushner said. "I said, 'Look, there's plusses and minuses to doing it,' and either way he would have ended up in a good place."
It Was All a Misunderstanding
Weirdly, while Trump repeatedly insisted that he was very close to killing NAFTA, last week his Commerce secretary suggested that the executive order was just one of many drafts floating around the White House, and Trump was only spurred into action because it leaked.
"I think what people don't understand is that the president encourages lively discussion within the White House and between the White House and the cabinet," Ross told CNBC. "In the course of those discussions, all kinds of alternatives come up. I think what's unfortunate is someone leaked one of the many potential papers that was floating around and created a whole skirmish over something that had not been decided upon by the president."
It Was All a Ruse to Pressure Congress
Under this scenario, Kushner or some other White House official may have placed frantic calls to Trudeau, but it was Trump pulling the strings.
While the threat of pulling out of NAFTA prompted a quick response from Canada and Mexico, both nations were already eager to renegotiate the trade deal. The only thing standing in the way is the U.S. Congress, and a day after the NAFTA debacle, Foreign Minister Luis Videgaray suggested Trump's threat was really aimed at U.S. lawmakers. "There has been a significant delay in starting the process that would enable a renegotiation," he noted in a radio interview.
"A negotiating ploy," Gary Hufbauer of the Peterson Institute in Washington told the Canadian Press. "True to Trump's style."
If the Trump administration was trying to light a fire under Congress, it's hard to say if the effort worked. The issue is that the White House is required to tell Congress 90 days before it begins renegotiating NAFTA, and the notification must come from the U.S. trade representative. The confirmation of Trump's nominee for that position, Robert Lighthizer, has been held up by his previous work for China and Brazil.
Congress has moved on his confirmation in recent days, albeit very slowly. A waiver to allow Lighthizer to serve as trade representative even though he's represented foreign governments was tucked into the massive spending bill that Trump signed into law last week. Majority Leader Mitch McConnell said the Senate will vote on Lighthizer next week, when they return from recess.
Some say it doesn't make sense for Trump to take such drastic measures to get Republicans to act.
"You don't go and float these rumors and have the markets crash, and currencies, and threaten bilateral relations just to prod your own party into acting in Congress," said Jorge Guajardo, a former Mexican diplomat and senior director at the D.C. international strategy firm McLarty Associates.
Then again, a president having his adviser slash son-in-law conspiring with the Canadian prime minister, or pretending he was about to kill a major trade deal to cover up for a leak doesn't make much sense either.