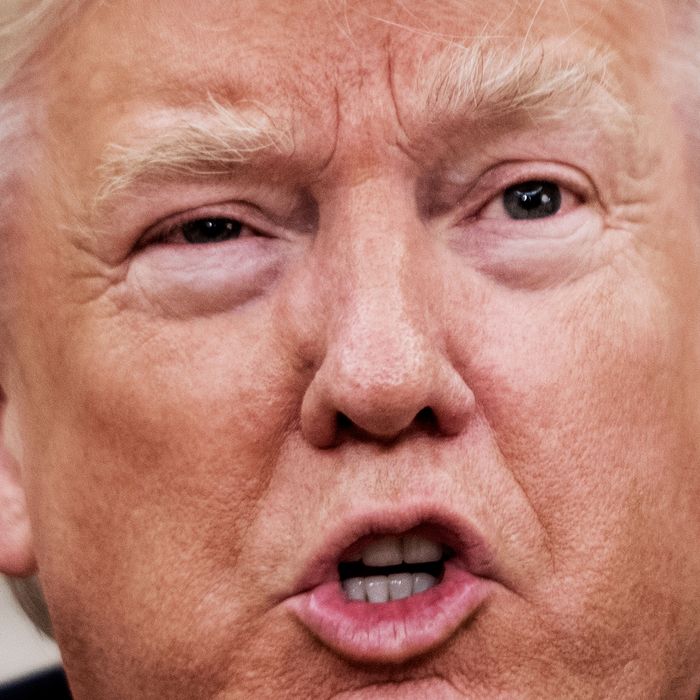 Is the president about to screw over millions of low-income Americans without notice?
Photo: JIM WATSON/AFP/Getty Images
Looks like Donald Trump may have left a nasty surprise for his fellow Americans upon disembarking for his overseas trip. According to Politico, he may have decided to abruptly terminate Obamacare Cost-Sharing Reduction subsidies to insurers, plunging markets into turmoil at the worst possible time.
Trump told aides in a Tuesday Oval Office meeting that he wants to end the payments to insurers, according to people familiar with his comments. Trump has previously expressed conflicting opinions on the issue. Insurers have been pressing for certainty as they plan for next year.

Estimated at $7 billion for this year, the payments go to insurance companies to reduce deductibles and other out-of-pocket costs for low-income consumers — an estimated 7 million people in 2017. Insurers are on the hook under the health law to keep paying even if the federal money stops.
As you may recall, Trump took CSR payments hostage in April, threatening to kill them if Democrats didn't cooperate with his efforts to repeal and replace Obamacare. The brouhaha nearly blew up the appropriations negotiations needed to avoid a government shutdown until the administration backed off and pledged to keep making the payments.
Now Trump seems to have changed his mind again, and the timing could be very significant.
For one thing, the affected insurers are looking down the barrel of a June deadline to inform the federal government of 2018 rates they propose to offer on healthcare.gov.
For another, the underlying legal issue is coming to a head:
On Monday, the Trump administration has to inform the U.S. Court of Appeals for the District of Columbia how it wants to resolve a lawsuit the House Republicans brought against the Obama administration saying the White House was making the payments without congressional approval. The White House and House could also ask for a 90-day hold on the case.
If the administration drops the appeal, then its subsidy payments will have to stop until such time as Congress appropriates money to fund them.
Should this happen, there should be a bipartisan outcry instantly and immediately. Even those Republican lawmakers who hate Obamacare should have the integrity to avoid sabotaging the current system until their own is in place (if that ever happens), as even right-wing House Freedom Caucus leaders have acknowledged in the past. Screwing over 7 million low-income policy-holders, and destabilizing the insurance markets for many millions more, would be an underhanded blow that should shame its perpetrators, particularly the one who is jetting off to the Middle East and Europe to proclaim America's return to greatness.