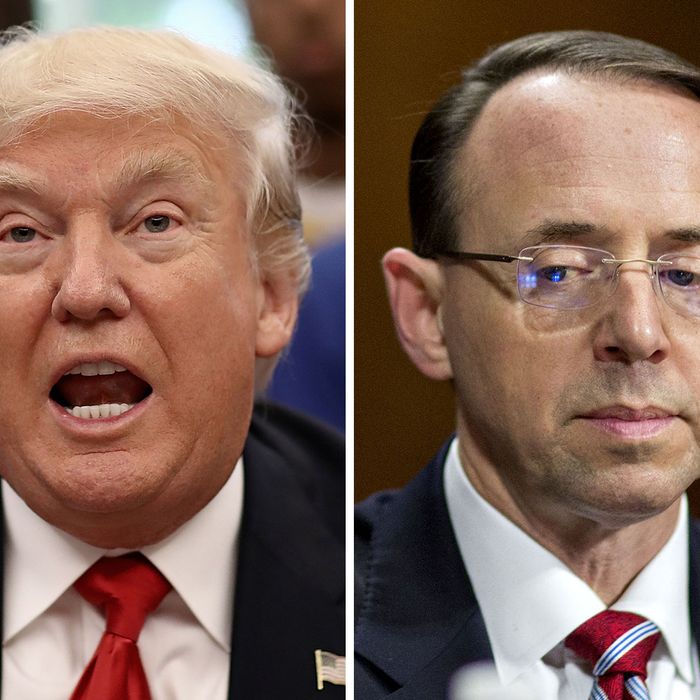 Does the president know that Deputy Attorney General Rod Rosenstein works for him, not for the Deep State?
Photo: Win McNamee/Getty Images; Andrew Harrer/Bloomberg via Getty Images
One of the odd things that has happened in plain view today is a series of angry attacks by the president of the United States on his own deputy attorney general, the very man on whose recommendation the White House originally said he decided to fire FBI Director James Comey.
No, Trump hasn't attacked Rod Rosenstein by name, but he's aggressively attacked Rosenstein's decision to appoint a special counsel to investigate all aspects of the Trump campaign's relationship with Russians and their agents.
This morning's presidential tweets complained that Hillary Clinton and Barack Obama didn't have to deal with a special counsel, and then called his own subjection to this scrutiny a "witch hunt." Later on he spoke with a group of television anchors, and was still whining about his own administration's decision, saying it "hurts the country" and "shows a very divided country." He also blamed it on Democrats, who just could not accept they had lost the election fair and square (except, presumably, for those millions of "illegal votes" cast against Trump).
Can someone please explain to the president that the Department of Justice is part of his administration?
If he does fully understand that, then perhaps his attacks on a decision he was said to have taken pretty calmly last night could be more calculated than impulsive. His Breitbartian base appears to be nurturing the suspicion that the "Deep State" of lefty permanent bureaucrats is making all the Russia stuff up to "smear" Trump and even to execute a coup to topple him. Rod Rosenstein sure looks like an elitist who's been on the government payroll for ages, and also worked for Democrats.
So what if he's Trump's own head of Trump's own Justice Department? The Deep State is nefarious. And perhaps the president has innocently nourished vipers in his own breast.
I guess it is important to Donald Trump to feed these sorts of delusions to the people who will ultimately be the only ones to stand with him if Mueller comes back with terrible findings and Trump's back is against the wall. But you'd think he'd try to keep his own White House's story a bit straighter.