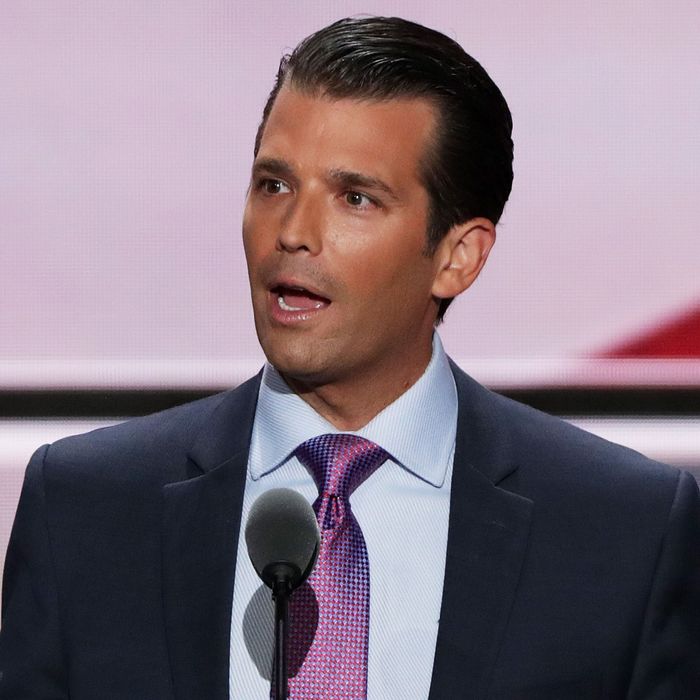 Donald Trump Jr.
Photo: Alex Wong/Getty Images
When Donald Trump campaigned for the presidency, he described himself as a "greedy, greedy, greedy" man who never felt any reservation about manipulating the political system to advance his own financial interests.
But once ensconced in the Oval Office, Trump assured America that he would never think of using public power to advance his private interests. The president's sense of patriotic duty made divestment from his company — and its myriad overseas investments, creditors, and partnerships — unnecessary (as did the president's immunity from federal conflict of interest laws).
Still, Trump decided to go above and beyond. While he was legally free to continue managing his company from the Oval Office, Trump promised in January to hand over operational control of the business to his adult sons; forfeit profits from foreign officials who stay in his hotels; have an ethics adviser vet all the Trump Organization's new ventures for potential conflicts; and bar his company from making any new deals in foreign countries for the duration of his presidency.
Experts in government ethics found these measures woefully inadequate, not least because they lacked any mechanism for independent oversight or enforcement. The first four months of the Trump presidency have made such complaints look both prescient and quaint: Far from hiding its dirty deals behind a façade of ethical scrupulousness, the Trump family has displayed it's kleptocratic avarice for all to see.
When Trump announced his plans for avoiding conflicts of interest, his attorney argued that it it would be unreasonable for the American people to expect him to forfeit the empire he'd spent his whole life building, just because they elected him president.
Since then, Trump has apparently reasoned that he also can't be expected to not invite the children running his business to policy meetings with tech entrepreneurs; or to not meet with his business partners while president-elect; or to ensure that his D.C. hotel did not court the patronage of foreign diplomats (in arguable defiance of the Constitution); or to not attack private companies that refuse to maintain a relationship with his daughter's poorly performing brand; or to not allow said daughter to meet with the president of China on the same day Beijing approved three new trademarks for her brand.
So, if you were one of the Trump Organization's foreign business partners — and saw an opportunity to further leverage the American president's brand — that whole "no new foreign deals" thing probably wouldn't give you much pause.
Especially if Donald Trump Jr. flew to your country to discuss "new ideas," as he did last week, according to the Associated Press:
Donald Trump Jr. traveled to Dubai and met a billionaire business partner in the city-state, discussing "new ideas" as the Emirati's real estate firm still lists possible plans for future joint projects while Trump's father is in the White House.

[…] DAMAC mentioned the Trump Organization in a prospectus for a sukuk, a type of Islamic bond, launched in April on the NASDAQ Dubai exchange. That filing noted DAMAC's "product expansion also includes branding arrangements with … the Trump Organization." It also listed plans for a "luxury boutique hotel to be operated by the Trump Organization" at DAMAC Hills, a massive development of villas and apartment buildings in Dubai's desert that surrounds the newly opened Trump golf course.

[…] Meanwhile, a quarterly earnings filing Monday made by DAMAC's holding company listed a newly created subsidiary called Trump International Golf Club LLC, in which it described as holding a 100 percent legal and economic interest. The UAE-based entity lists its principal activity as being the "golf club," without elaborating.
The Trump Organization says that it has no new deals in the works in Dubai. But the Trump Organization says a lot of things