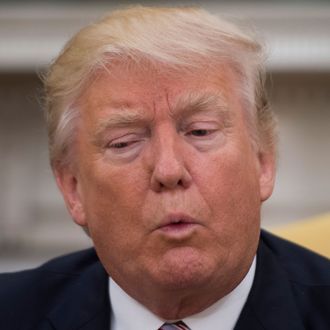 Photo: JIM WATSON/AFP/Getty Images
President Donald Trump finally signed a long-anticipated executive order on Thursday that's intended to bolster the United States' cybersecurity defenses. First rumored to be in the pipeline immediately following his inauguration, the order has been delayed for almost four months, as officials sought input from experts, and as the administration attempts to put out one fire after another.
The order — signed by a president who spent his first couple of months in office using an unsecured smartphone, and who refers to anything with a computer chip inside as "the cyber" — is a mostly unobjectionable attempt to improve both the network security of government agencies and vital infrastructure facilities, like the energy grid and financial institutions. The order holds agency heads accountable for implementing risk-management procedures, taking direction from the National Institute of Standards and Technology.
According to BuzzFeed:
Michael Daniel, president of the Cyber Threat Alliance and former special assistant to former president Barack Obama and cybersecurity coordinator for the White House, wrote that overall, the executive order, "continues the general approach to cybersecurity that started in the Bush Administration and ran through the Obama Administration … in general, I don't see anything unusual or that really goes in a different policy direction."
At the very least, the order seems thought-out enough that it won't plunge the federal government into a scrambling chaos as agencies seek to interpret its meaning. We'll take a win where we can get it.
In other Trump tech news, the president expressed a preference for steam-powered catapults on aircraft carriers in a Time magazine interview today:
You know the catapult is quite important. So I said what is this? Sir, this is our digital catapult system. He said well, we're going to this because we wanted to keep up with modern [technology]. I said you don't use steam anymore for catapult? No sir. I said, "Ah, how is it working?" "Sir, not good. Not good. Doesn't have the power. You know the steam is just brutal. You see that sucker going and steam's going all over the place, there's planes thrown in the air."

It sounded bad to me. Digital. They have digital. What is digital? And it's very complicated, you have to be Albert Einstein to figure it out. And I said — and now they want to buy more aircraft carriers. I said what system are you going to be — "Sir, we're staying with digital." I said no you're not. You going to goddamned steam, the digital costs hundreds of millions of dollars more money and it's no good.