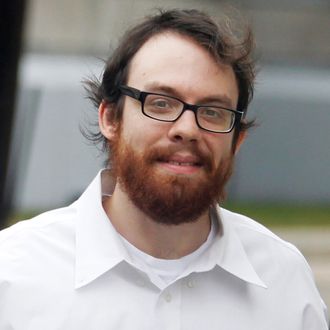 Andrew Auernheimer, a.k.a. Weev.
Photo: Julio Cortez/AP
Shortly before Emmanuel Macron was elected president of France on May 7, documents appeared online that supposedly linked him to offshore financial accounts — damning allegations that threatened to undo his campaign. The documents, as it turned out, were falsified, but their sudden appearance and distribution mimicked the now-established format for political disruption in a digital age: document dumps consisting of private data and communications.
In this case, the documents appeared on 4chan, but promised that more would appear on the website nouveaumartel.com. Through a bit of complex technological detective work, security researchers have found the nouveaumartel.com is tied to Andrew Auernheimer, the notorious white-supremacist hacker also known as "Weev." According to research firm Qurium, the #MacronGate documents were hosted on a Latvian server that also hosts the Daily Stormer, a leading white-supremacist website.
Tord Lundström, a computer forensics investigator, told The Wall Street Journal, "We strongly believe that the fake offshore documents were created by someone with control of the Daily Stormer server." Auernheimer's lawyer told the paper that he had no comment. Andrew Anglin, the Daily Stormer's publisher, stopped replying when asked if they were behind the documents. Anonymous 4chan users congratulated Weev on the leaks, in the thread where they were posted.
In 2012, Auernheimer was sentenced to 41 months in prison, for illegally obtaining reams of customer data from an AT&T server, though his conviction was vacated in 2014.