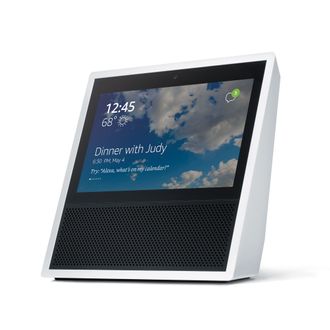 Following a week's worth of leaked details, this morning Amazon announced the Echo Show — the latest voice-activated home device in its Echo family. As with every other device enabled with Amazon's voice assistant Alexa, you can use the Show to play music, answer questions, and control your smart-home devices. But this one is more than just a speaker: As the name implies, the Show has a touchscreen for displaying the time, the weather, visual information, and even video chat.
Among other things, the screen allows navigation to be more granular: If you ask it to pull up YouTube videos or buy products from Amazon, it can present you with a number of options, rather than just choosing the one it thinks is best.
More importantly, however, it can be used for video chatting. The marquee feature of the Echo Show is Drop In, which lets you immediately launch a call with white-listed contacts (though there are obvious ways that this could backfire, if you keep the device near, I dunno, your bed). In addition, the Alexa app for smartphones is getting upgraded with video chat, so you can connect to an Echo Show on the go.
The Echo Show will be released on June 28, and costs $230. If you buy a two-pack from Amazon, you can get a $100 discount.