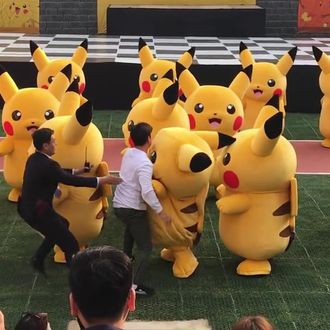 While we live in a garbage pile over here in America, Japan appears as a veritable wonderland where, every day, everyone's best friend, Pikachu, visits the citizenry and dances for their pleasure. The Pokémon marketing blitz never stops, and the lynchpin is a corps of enormous Pikachus with wiggly arms that dance to the hottest Broadway hits.
But sometimes, not everything goes as planned. During a recent number set to the Hairspray number "You Can't Stop the Beat" (the 2007 Nikki Blonsky version), one of the costumes malfunctioned. This resulted in a number of men in dark suits rushing Pikachu off the stage, as if the creature were Reagan and Hinckley had just appeared in the crowd.
It happens around the 1:10 mark here.
As an added bonus, stick around through the rest of the delightful performance to see saggy Pikachu's triumphant (?) return.