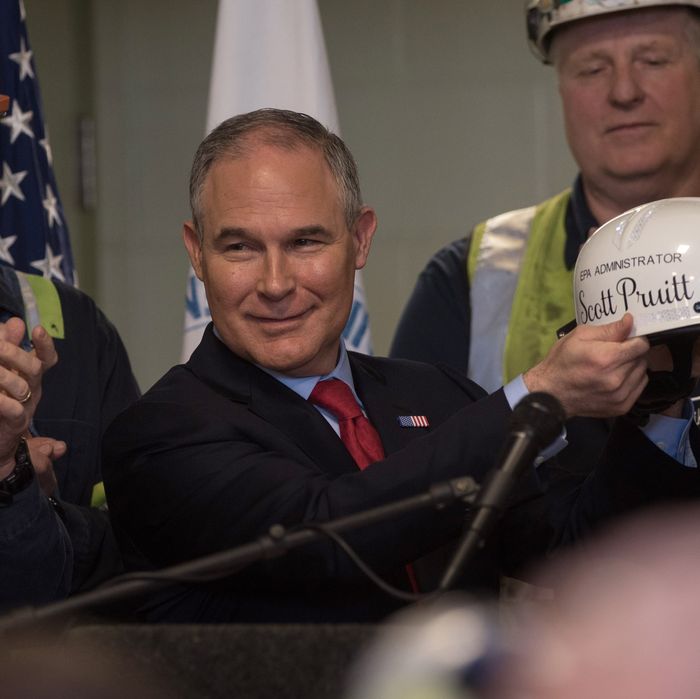 Pruitt greets representatives from the coal industry, who may have a shot at being on the EPA regulatory boards.
Photo: Justin Merriman/Getty Images
A few weeks after the election, pro-Trump commentator Scottie Nell Hughes heralded the dawn of a new era when she declared, "There's no such thing, unfortunately, anymore as facts." In the age of Trump there's little need for people who've devoted their lives to studying scientific facts, and over the weekend the administration finally got around to dismissing some of them. According to the Washington Post, about half of the 18 members on the Environmental Protection Agency's Board of Scientific Counselors have been informed that their terms will not be renewed.
The academics who sit on the board advise the EPA's scientific board on whether its research is sound. The academics usually serve two three-year stints, and they were told by Obama administration officials and career EPA staffers that they would stay on for another term. But on Friday some received emails from the agency informing them that their first three-year term was up and they would not be renominated.
Republican members of Congress have complained for some time that the Board of Scientific Counselors, as well as the 47-member Science Advisory Board, just rubber-stamp new EPA regulations. A spokesman for EPA administrator Scott Pruitt confirmed that he's thinking of replacing the academics with industry experts (though the EPA is supposed to be regulating those companies).
"The administrator believes we should have people on this board who understand the impact of regulations on the regulated community," said Pruitt's spokesman, J.P. Freire. He added that they want a "clean break with the last administration's approach," but noted that the dismissed staffers are free to reapply.
That's probably a waste of time. In addition the Trump administration's stated desire to bring in new perspectives, Ryan Jackson, Pruitt's chief of staff, has already insulted the academics upset about their sudden dismissal.
"I'm not quite sure why some EPA career staff simply get angry by us opening up the process," he said. "It seems unprofessional to me."