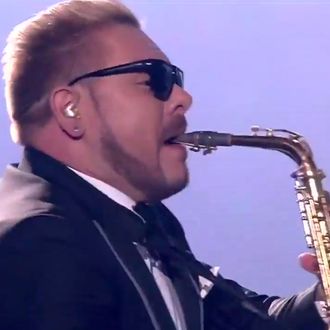 Way back in 2010, Moldovan pop trio SunStroke Project took the stage for the annual Eurovision song contest. The competition, which pits bands from every European country against each other in a bid for pop supremacy, rarely yields breakout stars Stateside. But in 2010, Epic Sax Guy emerged as the biggest Eurovision celebrity since ABBA.
The product of a simpler time and a smaller memescape, Epic Sax Guy became very popular on the internet because he played a funky horn very enthusiastically. He wasn't a meme that explained fascism, or spoke to our cultural anxieties, or whatever. He just put his head down and did the damn job, which was grooving like his life depended on it.
Here's the original performance.
Here's a popular remix.
Now, in our darkest hour, he has returned to shred again. SunStroke Project and the Sax Guy himself (IRL: Sergey Stepanov) performed again today at Eurovision 2017. Gone are the cutoff sleeves and pelvic thrusting, replaced by a fancy tuxedo.
The song the group is performing is "Hey Mamma." Welcome back, Sax Guy. Thank you.