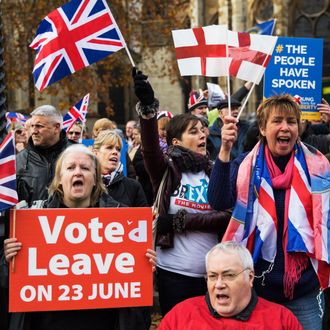 Photo: Jack Taylor/Getty Images
The United Kingdom's divorce from the European Union is definitely not going to be cheap. The Financial Times reports that Brussels is ready to slam Britain with an upfront €100 billion (about $109 billion) Brexit bill.
The split was expected to be pricey, but that figure is higher than earlier estimates of around €60 billion. According to the Financial Times, certain EU member-states — France and Germany among them — are drawing this tougher line, with some asking Britain to cover some of the costs of farm payments and EU administration fees for 2019 and 2020 even after Britain has formally left the bloc. "Some have created the illusion that Brexit would have no material impact on our lives or that negotiations can be concluded quickly and painlessly," said the European Union chief negotiator Michel Barnier. "This is not the case."
Britain balked at the figure. "We'll not be paying 100 billion," said David Davis, the United Kingdom's Brexit minister. "What we've got to do is discuss in detail what the rights and obligations are."
According to the FT, even if Britain would fork over the full €100 billion upfront, it would likely recoup some of the cost in EU spending and loans. Still, the opening bid has fueled more tensions between the EU and Britain in the weeks since British prime minister Theresa May triggered Article 50 at the end of March.
May reportedly bristled at the idea of an exit bill (citizens' rights for both U.K. nationals living in Europe, and Europeans living in Britain is another major sticking point) in a recent meeting with European Commission president Jean-Claude Juncker. A German newspaper leaked that Juncker, at the meeting, had told May that she was "deluding herself" and "living in another galaxy" about her Brexit demands. May, in response, later told reporters that she could be a "bloody difficult woman"and Juncker would find that out firsthand. And formal negotiations will not even begin until the end of May.