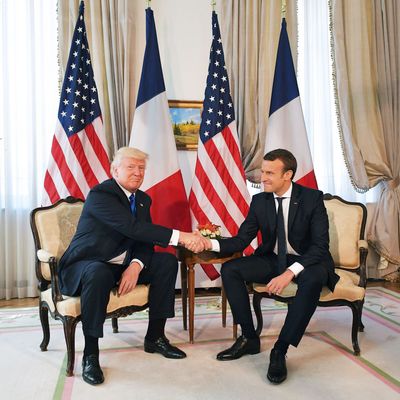 Handshake diplomacy.
Photo: Mandel Ngan/AFP/Getty Images
On Thursday, President Trump began the fourth leg of his first overseas trip since taking office by meeting with European leaders in Brussels, a city he once called a "hellhole."
Residents of the Belgian capital did not forget Trump's insult. On Wednesday, thousands of protesters took to the streets in Brussels with signs telling Trump to, among other things, "get the hell out of my hole."
"I'd like to see him point out where Belgium is on a map. I'm sure he doesn't know where it is," one Belgian told NBC News.
Trump first met with Belgium's prime minister Charles Michel Thursday morning and then with leaders of the EU. Speaking to the media after the meeting, European Council President Donald Tusk said he and European Commission President Jean-Claude Juncker agreed with Trump on "many areas," but named only one — the importance of combating terrorism.
He went on to say that the EU leaders and Trump did not see eye to eye on the issues of climate, trade, and, most importantly, Russia. "I am not sure that we can say 100 percent today that we have a common position, common opinion about Russia," Tusk said.
This wouldn't have been a Trump meeting if nothing leaked, and not long after it ended, something did. Trump reportedly told Tusk and Juncker that he's concerned Brexit will result in job losses for Americans. That's quite a turn for Trump, who once labeled himself Mr. Brexit and called the United Kingdom's decision to leave the EU a "beautiful beautiful thing."
After his meeting with EU leaders, Trump went to a lunch of veal filet and Belgian-chocolate mousse with newly elected French president Emmanuel Macron. In Macron, who is not much more than half Trump's age, the 70-year-old saw something he could appreciate — an impressive electoral win.
"It is my great honor to be with the newly elected president of France, who ran an incredible campaign and had a tremendous victory," said Trump, who came close to endorsing Macron's far-right opponent during the election. "All over the world they're talking about it. And we have a lot to discuss, including terrorism and other things. Congratulations. Great job."
Their discussion was "direct and constructive" Macron said after the meeting in a tweet that included video of a now-viral handshake between the two leaders. It was yet another Trump handshake that's gotten considerable attention thanks to Macron's tight squeeze on Trump's meaty mitt, a clear attempt to out-alpha the alpha.
Here's how the Times saw it:
The 70-year-old American and the 39-year-old Frenchman grabbed each other's hands in what began as a manly greeting and ended as a kind of good-natured death grip. Jaws clenching, faces alternating between smiles and grimaces, the two men shook until Mr. Trump's knuckles turned white.

At one point, the president tried to pull away, only to have Mr. Macron clasp his hand even harder and keep pumping. Finally, the second time Mr. Trump pulled away, Mr. Macron let him go.
Seems like someone went to the Justin Trudeau School for Handsome World Leaders to Prepare for Awkward Handshakes.
Following the lunch with Macron, Trump spoke as a memorial to 9/11 victims was unveiled at NATO headquarters. European leaders were hoping to hear Trump reaffirm U.S. commitment to Article 5, the alliance's pledge of mutual defense, but instead he badgered them about NATO dues.
"Members of the alliance must finally contribute their fair share and meet their financial obligations," Trump said. "Twenty-three of the 28 member nations are still not paying what they should be paying and what they are supposed to be paying for their defense. This is not fair to the people and taxpayers of the United States."
Later, in an apparent nod of support to body-slamming Montana congressional candidate Greg Gianforte, Trump physically moved Montenegro PM Dusko Markovic out of his way so he could preen for the cameras.