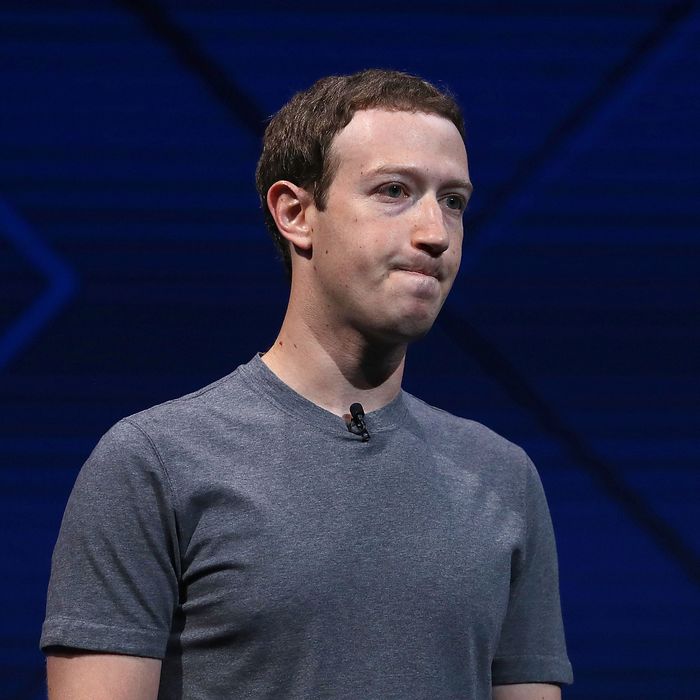 Photo: Justin Sullivan/Getty Images
At this point, it's a pretty safe assumption that Facebook knows more about you than you might like it to. Particularly, it seems, if you're an Australian teenager feeling vulnerable and talking about it online. According to a document uncovered this week by The Australian, the company reportedly used a set of keywords and situations to help advertisers pinpoint "moments when young people need a confidence boost." Because being a teen isn't hard enough already.
The guidelines were specifically for advertising in Australia and New Zealand. Terms Facebook used reportedly included words like "worthless," "defeated," "anxious," "useless," "stupid," "overwhelmed," "a failure," and "stressed." Other methods involved image recognition, and zeroing in on young users who might be unhappy with how they look or trying to lose weight, Ars Technica reports.
"We have opened an investigation to understand the process failure and improve our oversight," a Facebook representative told The Australian. "We will undertake disciplinary and other processes as appropriate." As noted by Ars Technica, it's unclear if these targeted strategies have been used by Facebook in other parts of the world.
Update, May 1, 2017, at 4:25 p.m.: A Facebook representative provided Select All with the following statement regarding The Australian's report.
On May 1, 2017, The Australian posted a story regarding research done by Facebook and subsequently shared with an advertiser. The premise of the article is misleading. Facebook does not offer tools to target people based on their emotional state.

The analysis done by an Australian researcher was intended to help marketers understand how people express themselves on Facebook. It was never used to target ads and was based on data that was anonymous and aggregated.

Facebook has an established process to review the research we perform. This research did not follow that process, and we are reviewing the details to correct the oversight.