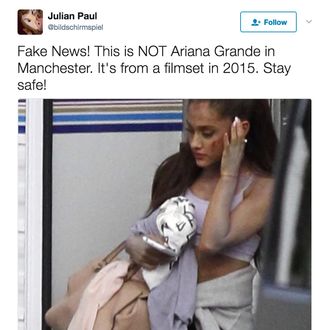 A fake photo of Ariana Grande began circulating after an explosion at her concert.
Last night, an explosion at England's Manchester Arena killed at least 22 people and left nearly 60 injured. The bomb, which has since been claimed by ISIS, went off following an Ariana Grande concert. Police believe the man who set off the bomb also died on the scene. The explosion occurred around 10:30 p.m., just after Grande had finished her set. Videos from the arena show streams of people — including many young girls and their mothers — screaming and running for the exits.
Following the show, people took to social-media platforms, like Twitter, to try to track down loved ones. (In some cases, this worked and was a nice reminder of the goodness of humanity amid a tragedy.) Grande, who was unharmed and has reportedly canceled the rest of her tour, however, didn't comment on the attack for several hours. In that time, a photo of her — covered in dirt, face streaked with blood, and clutching her clothes and a purse — began circulating online. It's fake, a years-old paparazzi photo from Grande's work on Scream Queens.
Grande is safe, was unharmed in the blast, and will reportedly be suspending the European leg of her Dangerous Woman tour. Later on Monday evening, the singer tweeted an apology to fans for what happened at Manchester arena, describing herself as "broken."