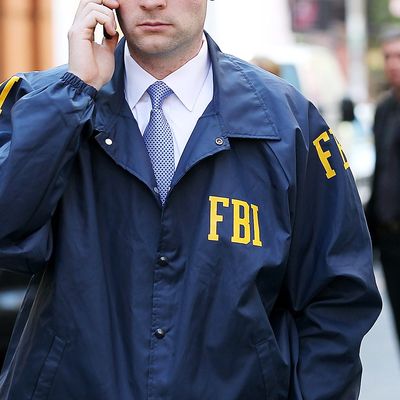 The FBI raided a GOP consulting firm in Maryland on Thursday.
Photo: Justin Sullivan/Getty Images
FBI agents executed a search warrant at a GOP consulting firm in Annapolis, Maryland, Thursday afternoon, setting off alarms for liberals and conservatives online who were convinced it was related to the Russia investigation.
The firms is called Strategic Campaign Group and it bills itself as a Republican campaign–winning operation that has "helped Republican candidates run for office at every level." The Washington Post spoke to the firm's president, Kelley Rogers, and he said agents collected documents related to its direct-mail and fundraising operations.
The lack of information in initial reports, combined with the FBI's involvement, had the rumor mill churning on Twitter.
On the left, a connection was quickly "confirmed" between Strategic Campaign Group and former Trump campaign manager Paul Manafort.
On the right, it was initially seen as a sign of a "coup."
Cernovich walked back the claim after reading the Post article linked above. It outlines Strategic Campaign Group's fraught legal past. In 2014, the firm was sued by former Virginia attorney general Ken Cuccinelli. He said it ran a PAC that raised over $2 million dollars for his gubernatorial campaign but spent little of that money in support of him. The firm settled the civil suit for $85,000.
Indeed, Rogers, the firm's president, confirmed in an interview with Capital Gazette that the FBI raid was related to the Cuccinelli allegations, not the tenuous-at-best links to Manafort. While the FBI confirmed it conducted a raid in Annapolis, it would not say where or the reasons why.