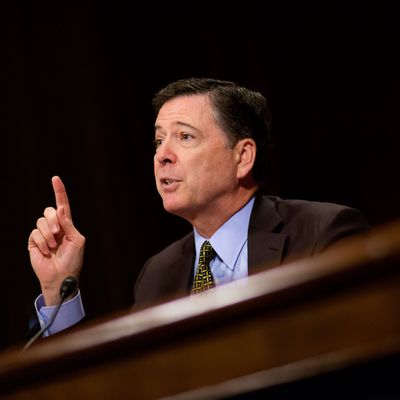 James Comey.
Photo: Eric Thayer/Getty Images
Members of Congress eager to see memos written by former FBI director James Comey after his meetings with President Trump are going to have to keep waiting. On Thursday, the FBI denied Representative Jason Chaffetz's request to see the memos, which are thought to include Comey's description of Trump asking him to drop the investigation into former national security adviser Michael Flynn. In denying the request, the FBI cited the appointment of special counsel Robert Mueller to run the probe into Russia's election tampering.
Chaffetz, the House Oversight Committee chairman, did not respond well to the denial. In a letter to acting FBI director Andrew McCabe, he wrote that the purpose of the Congressional investigation is different from Mueller's. While the special counsel is conducting a criminal investigation, Congress is conducting oversight of the Executive branch.
"Congress and the American public have a right and a duty to examine this issue independently of the special counsel's investigation," Chaffetz wrote. "I trust and hope you understand this and make the right decision — to produce these documents to the committee immediately and on a voluntary basis."
Chaffetz provided a June 8 deadline for the FBI to comply. He's planning to leave Congress a few weeks later.