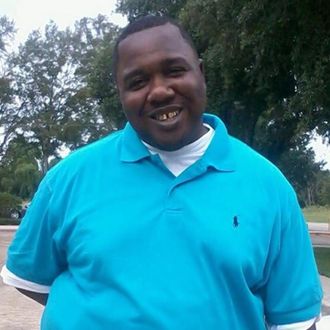 Alton Sterling.
Photo: Facebook
Federal prosecutors said Wednesday that, following an investigation, evidence was "insufficient" to charge the two white police officers who fatally shot the 37-year-old Alton Sterling, who is black, outside a convenience store in Baton Rouge last summer.
Sterling's death was captured on video, and sparked mass protests last July. Officers had reportedly responded to a report that a man had waved a gun near a convenience store. When they arrived on the scene, they discovered Sterling, and pinned him to the ground; someone shouted "gun" before the officers fired. Federal prosecutors said in a statement that "given the totality of the circumstances" the Justice Department could not "prove either that the shots were unconstitutional or that they were willful."
The formal announcement of the Justice Department's decision concludes a ten-month federal investigation, though reports had leaked Tuesday that prosecutors had reached this decision.
But the case is not completely shut. Louisiana Attorney General Jeff Landry is leading a state investigation into possible criminal charges against the two Baton Rouge officers, Blane Salamoni and Howie Lake II. Both cops remain on paid administrative leave; they also face an internal review, which will determine if they violated the police department's policies.
The Justice Department's decision on the Sterling case also comes on the heels of a plea deal between federal prosecutors and former South Carolina police officer Michael Slager for the 2015 death of black motorist Walter Scott, who was trying to flee when Slager fatally shot him in the back. Slager pleaded guilty to federal civil-rights charges. In return for his plea, state murder charges were dropped against Slager; he was expected to return to trial after the first case ended in a hung jury. Slager will likely face significant jail time, though will not likely receive the maximum sentence of life in prison.