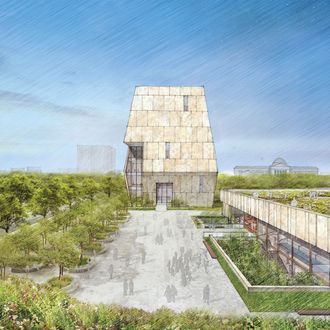 The Obama Presidential Center.
Photo: Obama Foundation
The Obamas are in their hometown this week, and have offered the city its first peek at the future Obama Presidential Center. The renderings of the campus — to be built in Jackson Park on the South Side — revealed a museum, a library, and the "forum," which will house an auditorium, restaurant, and public garden.
The museum (in rendering above) will be the largest structure on the 200,000-to-225,000-square-foot campus. The forum and the library will be one-story buildings with landscaped roofs that border on the public plaza below. According to the Chicago Sun-Times, there will also be a community garden and a kids' play space. The campus will also include hills for sledding, at the former First Lady's request.
The Obama Foundation said it is also exploring ways to incorporate a Chicago Public Library branch on the site. "More than a building or museum, the Obama Presidential Center will be a living, working center for engagement — an ongoing project for the community and world to shape what it means to be an active citizen in the 21st century," is how the Obama Foundation describes it.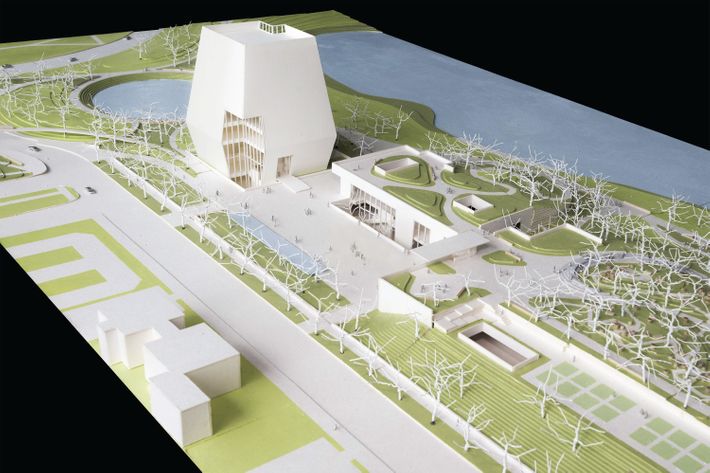 The entire project is expected to cost $500 million, and the Obama Foundation said they'll be soliciting community feedback throughout the project's construction, which they want to integrate as seamlessly as possible into the park. Still, the addition of the Obama Presidential Center will require a few tweaks to the existing campus — a track and athletic field will have to be moved, and a main thoroughfare for commuters may have to close, according to the Chicago Tribune.
The Obamas selected the architects for the Obama Presidential Center, Tod Williams and Billie Tsien, last summer; they're behind the now-gone American Folk Art Museum in New York City. The entire campus is expected to be completed by 2021, but President Obama said Wednesday that programming will begin sooner, including a $2 million donation to a youth summer-jobs program to combat violence in Chicago. The former president even offered a preview of his possible future teaching staff: