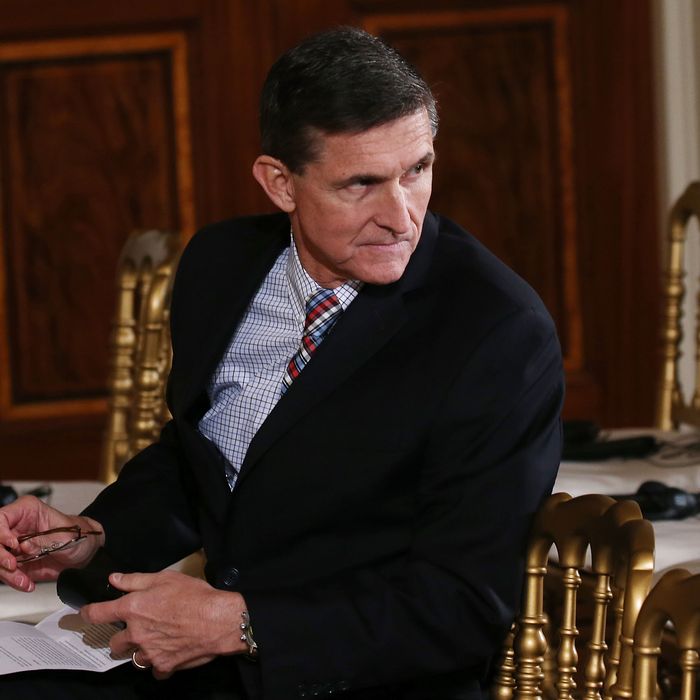 Guilty as Flynn.
Photo: Mario Tama/Getty Images
Last month, the House Oversight Committee announced that former National Security Adviser Michael Flynn likely broke the law by failing to disclose payments he'd received from groups associated with the Russian government. As a former general, Flynn was required to secure the Pentagon's permission before accepting payments from foreign entities.
"It does not appear to us that [permission] was ever sought," the committee's Republican chair Jason Chaffetz told reporters. "As a former military officer you simply cannot take money from Russia, Turkey or anybody else, and it appears as if he did take that money."
Now, the committee's top Democrat is saying that Flynn didn't just fail to notify the Pentagon of those payments — he told government investigators that such payments didn't exist when he applied for top-secret security clearance in February of last year.
In December 2015, Flynn sat beside Vladimir Putin at a Moscow gala for RT, a Kremlin-funded news network. RT paid Flynn more than $45,000 to attend the event and give a speech.
When investigators asked him if he had received any income from foreign companies two months later, Flynn said that he had not, according to the letter from congressman Elijah Cummings. Rather, Flynn insisted that he was paid by "U.S. companies" for his trip to Moscow.
Flynn also told investigators that he had had only "insubstantial contact with foreign nationals."
"It is difficult to understand how General Flynn could have believed that his dinner with Russian President Vladimir Putin was an insubstantial contact," Cummings writes.
Cummings's letter claims that the Oversight Committee possesses documents that suggest Flynn lied to federal investigators, a felony punishable by up to five years in prison. Previous reports have suggested that Flynn lied to the FBI about his contact with the Russian ambassador, and failed to register as an agent of the Turkish government while advising the Trump campaign last year — actions that would qualify as felonies.
Earlier Monday, Flynn invoked his Fifth Amendment protection against self-incrimination, as he refused to honor a subpoena from the Senate Intelligence Committee. That decision puts him at risk of being held in contempt of Congress.
Cummings's letter appears to be a direct response to Flynn's intransigence. The missive is addressed to Chaffetz, and asks the committee chair to issue a subpoena compelling the White House to produce documents related to its hiring and firing of the retired general.
"We need to know what the President, Vice President, White House counsel, and other top officials knew about General Flynn — and when they knew it," the letter says.
The committee had previously sent the Trump administration a nonbinding request for those documents. The White House refused to turn over a single one.