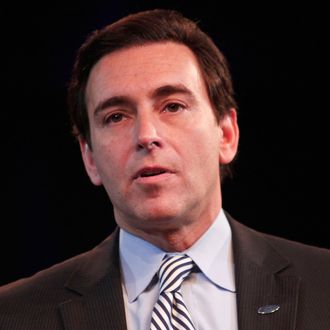 Mark Fields, the former CEO of Ford.
Photo: Bill Pugliano/Getty Images
Following months of falling stock prices, Ford Motor Company CEO Mark Fields has been removed from his position. He was CEO for three years — during which Ford shares fell by 40 percent — and will, according to the New York Times, be replaced by fellow Ford executive, Jim Hackett. Ford confirmed the change on its website Monday morning.
Prior to today, Hackett's focus at Ford was on autonomous vehicles and ride sharing. He was chairman of Ford Smart Mobility LLC, a subsidiary of Ford working on "the company's plans to design, build, grow and invest in emerging mobility services." He held the position for a little over a year prior to today's promotion. Before that, Hackett was CEO of an international office-furniture company for two decades, and served as interim director of athletics at the University of Michigan from 2014 to 2016. (Hackett played football there during his college years.)
The changeup, also reported by the New York Times, follows a recent meeting in which Fields was criticized by investors and board members for the company's dropping numbers and failure to stay competitive against others in the industry, like Tesla.
From the Times:
At the annual meeting on May 11, Mr. Fields said Ford was capable of staying competitive in the current market for new vehicles, while also "keeping one foot in the future" of an industry heading toward autonomous, battery-powered cars.
It appears, now, that instead of helping the company keep one foot in the future, Mark Fields will have one foot, and then two, out the door.