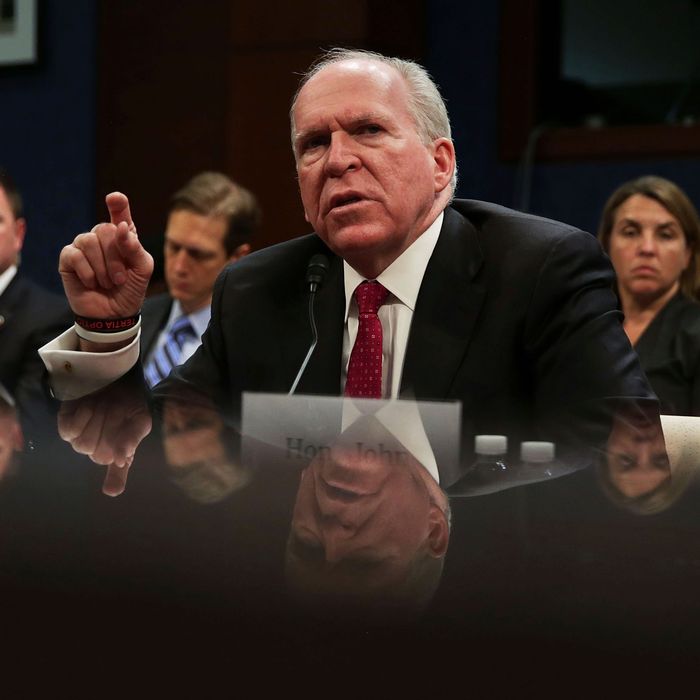 Former director of the Central Intelligence Agency John Brennan testifies before the House Permanent Select Committee on Intelligence on Capitol Hill, May 23, 2017, in Washington, D.C.
Photo: Alex Wong/Getty Images
"I encountered and am aware of information and intelligence that revealed contacts and interactions between Russian officials and U.S. persons involved in the Trump campaign," former CIA director John Brennan testified Tuesday before the House Intelligence Committee on Capitol Hill. Brennan told lawmakers he was concerned about that information "because of known Russian efforts to suborn such individuals and it raised questions in my mind, again, whether or not the Russians were able to gain the cooperation of those individuals."
"I don't know whether or not … such collusion existed," Brennan added, forcefully. "I don't know. But I know there was a sufficient basis of information and intelligence that required further investigation by the bureau."
The testimony from one of Obama's top officials laid out, on the record, the intelligence community's concerns about Russian influence in the 2016 election, adding to the ongoing Washington drama over the Trump-Russia probe. Brennan filled in some details on the timeline of Russian meddling, telling lawmakers that his agency first became aware of Moscow's desire to stew chaos in the election in the summer of 2016. Brennan described Russia's goals as twofold: to smear and damage Hillary Clinton, and to bolster her opponent — though the Russians themselves did not necessarily believe Trump had a chance to win the presidency.
Brennan said Moscow officials had contact with associates in Trump's campaign — but again, the nature of those interactions are what's under investigation. Yet Brennan described Moscow's aims as insidious, built around the goal of recruiting people "wittingly or unwittingly" to work for the Kremlin. "Frequently, people who go along a treasonous path do not know they are on a treasonous path until it is too late," Brennan explained. The former CIA chief did not name any specific individuals in his testimony.
Brennan also testified that he spoke directly to the head of the FSB, Russia's domestic intelligence agency, to warn them that such interference would do even more harm to the already precarious U.S.-Russia relationship. The FSB head denied such a campaign, according to Brennan, but said he would pass along U.S. concerns to Russian president Vladimir Putin.
Brennan, however, was just one key official testifying during a crowded schedule up on Capitol Hill. Director of National Intelligence Dan Coats appeared before the Senate Armed Services Committee on Tuesday. He wasn't there to specifically talk about Russia, but, while lawmakers had the pleasure of his company, the subject naturally came up.
Senators specifically wanted to know if Trump, per a report in the Washington Post, had requested — unsuccessfully — that Coats (along with director of the National Security Agency, Admiral Michael Rogers) publicly deny any collusion between the Trump campaign and Russia, shortly after now-fired FBI director James Comey had confirmed an investigation into that very thing on his March 20 appearance on Capitol Hill.
Coats declined to answer the question directly. "I don't feel it's appropriate to characterize discussions and conversations with the president," he told lawmakers.
Rogers, the other person who reportedly got an earful from Trump, will also be testifying before lawmakers on Tuesday. He'll be appearing before the House Armed Services Committee in the afternoon on non-Russia-related business, but will likely still be grilled about Trump's request nonetheless.