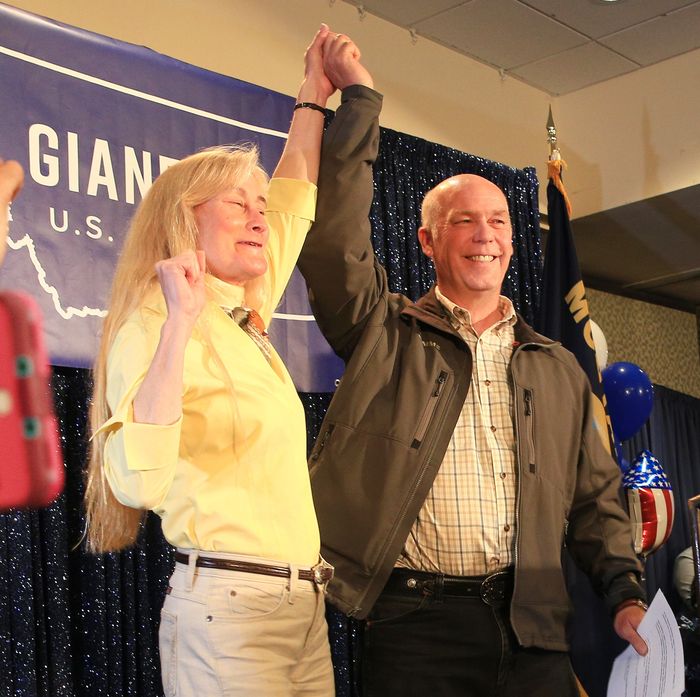 Congressman-elect Greg Gianforte will face assault charges soon after he is sworn into office.
Photo: Janie Osborne/Getty Images
Criminal-assault suspect Greg Gianforte is the winner of the special election to fill Montana's seat in the U.S. House, according to the Associated Press, David Wasserman of Cook Political Report (writing at FiveThirtyEight), and DecisionDeskHQ. The most notable moment from Gianforte's victory celebration was his apology to journalist Ben Jacobs, whom he allegedly "body slammed" on the eve of the election.
"Last night I made a mistake and I took an action I can't take back and I am not proud of what happened," Gianforte told the crowd. "I should not have responded the way I did and for that I am sorry."
The Republican business owner is leading Democratic bluegrass singer Rob Quist by a 51-44 margin with 77 percent of precincts reporting. This keeps Interior Secretary Ryan Zinke's former seat in the GOP column, and represents another close-but-no-cigar result for Democrats, who are mostly contesting special elections in strong Republican areas where seats are vacated by Trump appointees.
Gianforte seems to be performing equally in early votes (probably about 70 percent of the total) and Election Day votes, despite some GOP fears that Election Day voters would strongly respond to the candidate being charged with misdemeanor assault on Wednesday night. And actually, given the usual GOP lean of Election Day voters, the winner may have paid a price for his actions. But it was too little, too late.
As has been common in this year's special elections and last year's presidential race, the Republican candidate did especially well in rural areas, and ran ahead of his losing numbers in the 2016 gubernatorial race (though also well behind Donald Trump's performance) in much of the state. He benefited from an overall two-to-one advantage in ad spending, which focused late in the campaign on Quist's personal financial issues.
The assault incident will make it difficult to derive any clear lessons from the contest, though GOP spin will suggest it kept the Republican candidate from winning more decisively, while Democrats will bemoan their inability to capitalize on the horrifying event thanks to heavy early voting. And both sides can make some legitimate claims to a relatively good outcome: Democrats certainly improved on Hillary Clinton's 20-point loss in the state last November, while Republicans won a race that seemed to be heavily nationalized at a time when Trump and his party were notably struggling in Washington.
There will be considerable debate within the Donkey Party about Rob Quist's candidacy. Some will say his personal issues ruined what might have been a successful bid, while others will suggest his performance showed there's nothing inherently magic about a Bernie Sanders–backed "populist" message. (Sanders campaigned with Quist over the final weekend.) The results will make the June 20 special runoff election to fill a U.S. House seat in Georgia — probably the Democrats' last best chance for a congressional win this year and already the most expensive House race in history — an even bigger deal.
As for Republicans, they appear to have again dodged a bullet. There is only so much pleasure, however, they can derive from holding onto their own House seats. And they probably won't look forward with much excitement to welcoming Greg Gianforte to Congress immediately before his June 7 court appearance for misdemeanor assault.