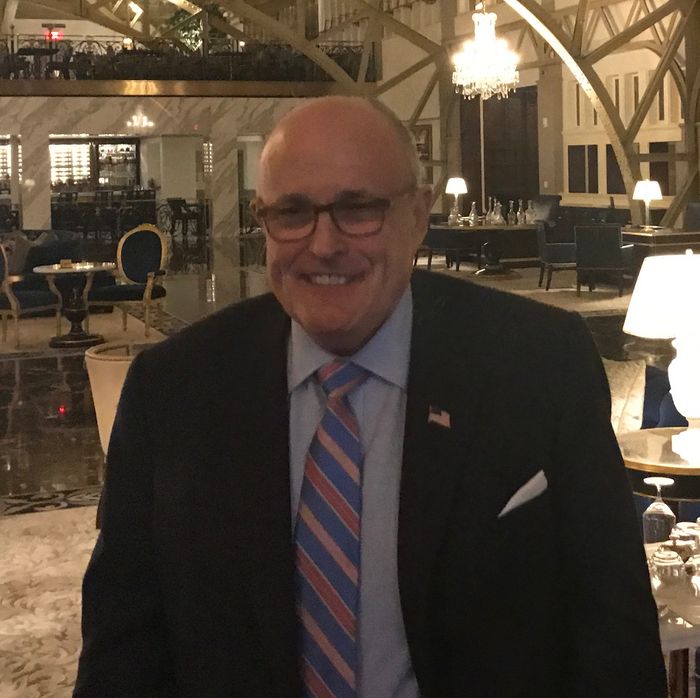 Giuliani outside the bar in the Trump International Hotel in Washington, D.C.
It was about a quarter past midnight, well after last call, when Rudy Giuliani and a small entourage, reeking of cigar smoke, emerged from behind the nearly empty bar in the Trump International Hotel in Washington, D.C., just a short walk from the White House.
Several hours had passed since President Donald Trump fired FBI Director James Comey, and speculation was rampant that perhaps the former mayor of New York — an old Trump ally who serves as an informal cybersecurity adviser to his administration — could replace him. His presence in Washington — and so close, physically, to Trump — only stoked the flames.
"I think the president made the right decision," Giuliani told me and The Atlantic's Rosie Gray, incidentally two of the last people in the establishment. He wore a dark blue suit with a blue shirt, a blue and pink striped tie, and an American flag pin on his lapel. His entourage looked on as he spoke.
"Jim is someone I regard as a friend. He worked for me for three years when I was U.S. Attorney, but I feel he made a number of bad judgments over the last year and the president was correct in removing him and trying to get the FBI better leadership."
Asked if he was on the short list to be the new FBI director, he said, "I am not. I'm not a candidate for FBI director." Asked, then, what he would say if the president called on him to take the position, he said, "The president's not gonna ask me, and I'm not gonna be FBI director."
He added, "I think everything the president does creates political blowback, 'cause I think the president is treated quite unfairly. And I think the president made the right decision. I think any president, given the decisions that were made by the FBI director over the last year, would lead to the result that the FBI needs different leadership."
A source close to the president confirmed Giuliani was in consideration for the position.
Asked why he was here in D.C., Giuliani was curiously noncommittal. "Oh, I'm in town for several business meetings, law firm meetings."
And then he said something interesting: "Uh, I'll be possibly — I'll be in the White House tomorrow. Nothing to do with, uh, having to do with my role. My role is, I am chairman of the committee to, uh, look at cybersecurity in the private sector. So, I'm gonna talk to several people in the White House about what I found." (What he found, he said, is something, "I can't tell you. You'll find out when we have our first conference, probably sometime in June." The White House, asked for comment, did not respond as of press time.)
But the real question: Will Giuliani be meeting with President Trump tomorrow?
To that, he replied: "If I am, I wouldn't say."