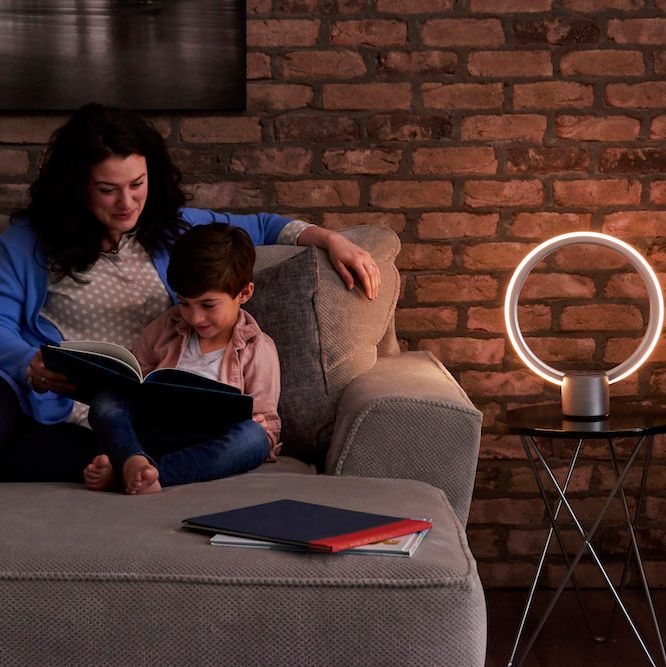 My beautiful lamp and my okay family, all together.
Photo: GE
One of the odder devices to come out of the Consumer Electronics Show this January was GE's Alexa-enabled ring lamp. At first glance, it looked goofy, a bit like a reject from the set of the Tron remake. And adding in Alexa when I already had an Echo (and lamps not shaped like a ring) didn't seem like a ton of additional value in my life.
But with the lamps now available for preorder, GE has released a few more details about them, and I suddenly find myself curious. Officially named the "C by GE Sol" (the "C" line is GE's whole collection of smart light bulbs), the Sol has a few smaller features that have me considering laying down $200, especially for a potential bedside lamp.
There's the idea that the Sol will, per GE's press release, put "illumination around the Sol's ring where clock hands would go in a traditional clock" — meaning no more finding my phone to check the time (and then suddenly finding myself reading Twitter until 12:30 a.m.). The ability to change the color temperature of the light to something much warmer at night is appealing, as is switching it to something brighter during the day. And being able to set an alarm by voice is nice as well.
We've had an Echo in our kitchen for almost a year now, and it's shocking how quickly Alexa integrated itself into our domestic routine — listening to news in the morning, playing music or a podcast while making dinner, asking "What's the weather forecast?" while figuring out what to wear or whether to grab a jacket.
And now, I maybe want this Aerobee-esque Alexa lamp as well? I worry that it's going to look ridiculous next to the rest of our furniture, none of which has the air of stark futurism of this thing. But we've been thinking of upgrading our secondhand bedside lamps for a while, and $200 isn't ridiculous once you get outside the world of Ikea, and those lamps won't even talk to you.
If you find yourself similarly intrigued, the Sol is available for preorder now, and will ship in September.