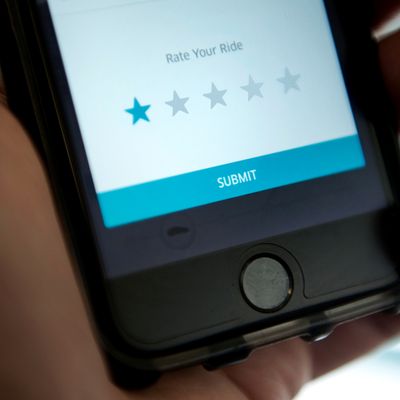 In this metaphor, it's Uber itself that is getting a one-star rating.
Photo: BRENDAN SMIALOWSKI/AFP/Getty Images
The case of Waymo versus Uber — already a complicated matter involving trade secrets, preexisting arbitration agreements, and whether a laser range finding device (known as LiDAR) had been smuggled wholesale out of Waymo — just got even more complicated. The only sure things? Uber is now in a much worse position than it was before, the engineer at the center of the firestorm is probably not resting easy, and the case of Waymo versus Uber will be fought in open court.
The first blow against Uber was Judge William Alsup's decision to deny Uber's request that the case enter into arbitration — thereby keeping the case out of the public eye. But the bigger news came shortly after, when Judge Alsup recommended that a U.S. federal attorney begin to look into whether there was criminal theft of trade secrets involved in the case.
A quick refresher on the case against Uber: Alphabet, the holding company formed by Google to contain companies like Waymo (formerly just a division within Google dedicated to automated cars) employed Anthony Levandowski as one of the main engineers in charge of Waymo's self-driving-car efforts. Levandowski, a phenom in the world of self-driving cars, left the company in early 2016 to start his own company, Otto, dedicated to figuring out automated long-haul trucking. A little over six months later, Levandowski's company was acquired by Uber for $680 million. Shortly after, Google says it dug into Levandowski's behavior before before he left Waymo and found that he downloaded around 14,000 documents to a personal hard drive from its servers and then reinstalled his OS in an attempt to cover his tracks.
In December of last year, an errant email from a vendor meant for Uber wound up in the inbox of a Waymo employee, who thought the designs for Uber's self-driving car's LiDAR equipment looked suspiciously similar to what Waymo (and Levandowski) had been working on. Waymo filed suit against Uber in February, Anthony Lewandowski quickly started using his fifth amendment rights (and completely stepped out development on Uber's own LiDAR last week), and now Uber and Google are engaged in what looks to be a lengthy court battle. Waymo's lawyers have argued that Levandowski and Uber were conspiring as early as October of 2015 to steal trade secrets, with Otto serving as little more than a shell company for the hand-off.
In Waymo's telling, this was a grand conspiracy by Uber to steal trade secrets by hiring away a key engineer. In Uber's version of the story, it happened to hire a highly sought-after engineer who then stole documents from Waymo without Uber's knowledge. (It's telling that neither Levandowski nor Uber is denying that Levandowski did actually steal trade secrets before leaving the company.)
There are three big takeaways from Judge Alsup's rulings:
One, at least some parts of Uber's self-driving-car business (likely the its LiDAR division) will have to come to a halt until the case ends — Judge Alsup placed parts of Uber's automated car business on hold with a preliminary injunction, though kept which parts secret to protect Uber's intellectual property.
Two, there will be an ugly and very public court fight between Waymo and Uber, since the possibility of arbitration has been removed.
Third, Levandowski (and perhaps others, though at this point that remains unclear) could face possible jail time for theft of trade secrets. Alsup, in his filing, said the case that Levandowski stole trade secrets seemed clear-cut to him. "I've never seen a record this strong in 42 years," wrote Alsup.
There's still a lot of uncertainty around all of this — both Uber and Waymo have fair amount of legal options still available to them (including, of course, Uber settling out of court, though that seems wildly unlikely at this point). The only thing that's certain? I'm very glad I'm not Anthony Levandowski.