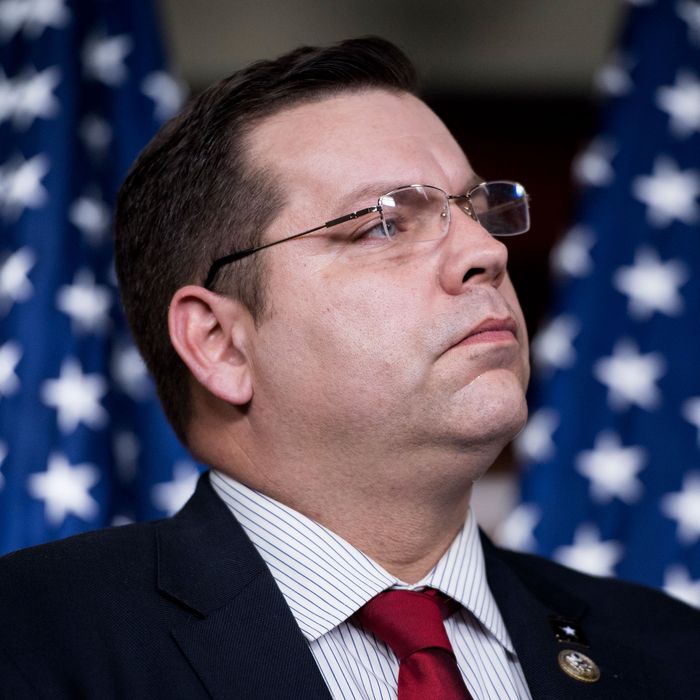 Representative Tom Garrett.
Photo: Bill Clark/CQ-Roll Call,Inc.
The next time President Trump has you fearing for the future of the country, Congressman Tom Garrett, Republican of Virginia, thinks it might be helpful to remember that, for all of his flaws, Trump is "small potatoes" compared to Hitler.
Garrett shared this remarkable exercise in low bar-setting at a town hall with his constituents Tuesday. "America has overcome amazing challenges that Donald Trump, as frightening as he is to some people, small potatoes compared to Nazi Germany," he said in response to question about his confidence in Trump.
Garrett's not wrong here. For all of Trump's flaws, he is decidedly not as bad as a genocidal fascist. While there doesn't appear to be any video of Garrett's reassuring words, a local reporter did share footage of a woman being ejected from the town hall for repeatedly interrupting with vocal support for Obamacare.
"I'm not proud of that moment," Garrett said of the woman's removal. It's worth noting though that having a constituent kicked out of the town hall is not nearly as bad as Pol Pot's reign of terror in Cambodia.