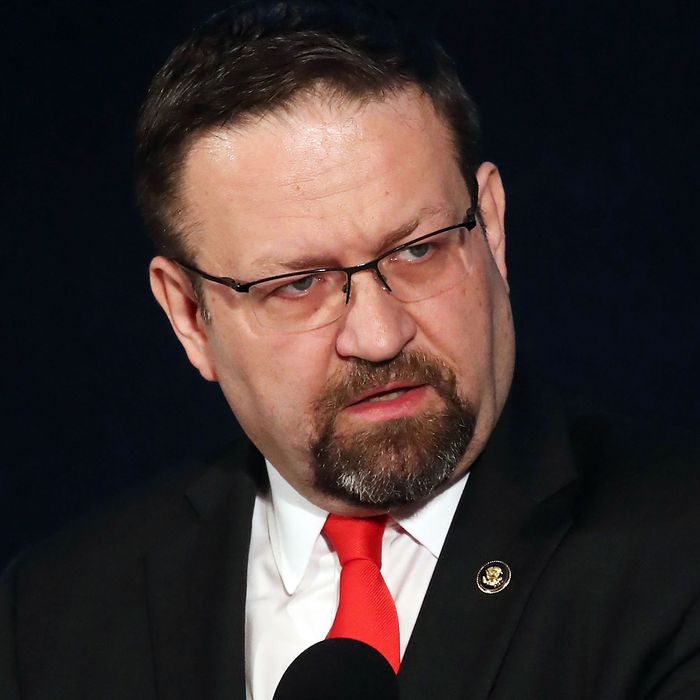 Sebastian Gorka.
Photo: Mark Wilson/Getty Images
President Trump's national security aide Sebastian Gorka still has a job at the White House. The terrorism expert was reportedly on his way out until Steve Bannon and Trump intervened on his behalf. He said at a conference over the weekend that reports about his impending unemployment were "very fake news."
In the first few months of the Trump administration, Gorka has emerged as one of the White House's most controversial figures. He's shown a penchant for his boss's brand of confrontation and was revealed to have connections to a far-right Hungarian group. On April 30, it was reported that he was moving on from the White House, but the move never materialized and on Friday the Daily Beast explained why:
"[Bannon] put a stop to it—he's loyal and a friend's job was in danger and reputation was getting dragged through the mud," another Trump administration official said, noting that Bannon had acted "decisively" to lobby for one of his ideological and personal allies in the West Wing. Trump then privately assured Gorka that his job was safe for now.
Bannon worked with Gorka at Breitbart News, where the latter was a national security editor while Bannon ran the Trump-touting website. Gorka once again reports to Bannon now that they're both in the White House. And it seems possible that Bannon likes having Gorka in the White House so he's not the only chubby, middle-aged enigma drawing scorn from the mainstream press.
Along with brushing aside reports of his imminent firing, Gorka defended himself against charges of anti-Semitism at the Jerusalem Post Annual Conference Sunday. In fact, that was the entire purpose of his appearance, The Atlantic reports.
"I have spent my life fighting against totalitarian ideologies and so did my father," Gorka told Jerusalem Post editor Yaakov Katz when asked about alleged ties to Nazi collaborators.
Gorka also said that despite all his dubious connections turned up by investigative reporters, no one has "ever found one sentence that I have said in the last 46 years that is anti-Semitic or anti-Israel." The 46-year-old London native spent the rest of the Q&A with Katz talking about Islam and the Trump administration's intention to "destroy our enemies."