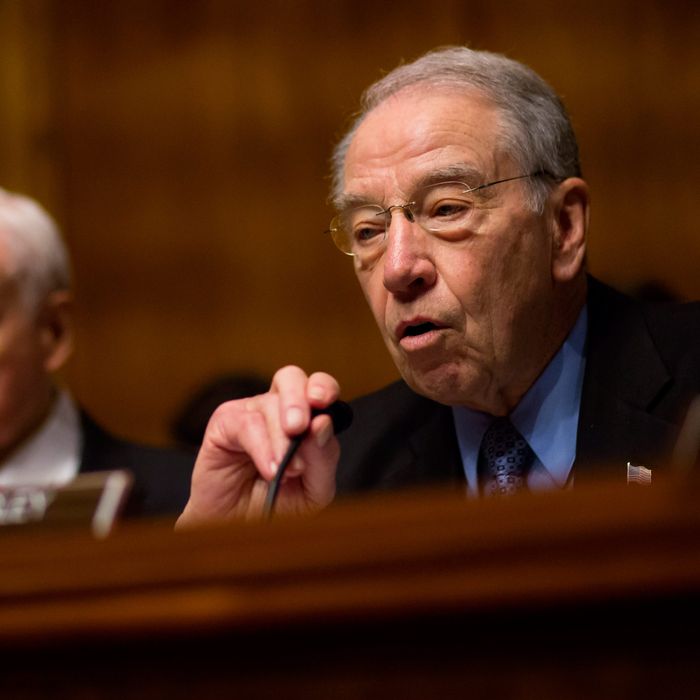 Grassley.
Photo: Eric Thayer/Getty Images
Before treating James Comey to a euphemistic version of his signature catchphrase Tuesday, President Trump thanked the FBI director for "informing me, on three separate occasions, that I am not under investigation."
This was a remarkable phrase. The White House had strenuously insisted that the FBI's Russia investigation played no part in Comey's firing — and yet the president could not get more than a paragraph into his letter before invoking that inquiry. Further, long-standing FBI policy would have barred Comey from providing the president such assurances about an ongoing criminal investigation.
For whatever reason, associates of the former FBI director have an easier time believing that Donald Trump would brazenly lie than that James Comey would flout protocol.
"That is literally farcical," one Comey ally told The Wall Street Journal.
Various Justice Department veterans expressed similar sentiments.
"That self-serving assertion was completely implausible," Harvard Law School professor and Obama administration alum Laurence Tribe told CNBC. "To put it bluntly, it appears to have been a blatant lie."
But even if Trump is lying about what Comey told him, it could still be true that the FBI doesn't have the president in its crosshairs. And on Thursday, Chuck Grassley strongly suggested that he knows that the FBI has nothing on the president.
At a committee meeting, the Republican chair of the Senate Judiciary Committee said that Comey had briefed him and Democratic senator Dianne Feinstein on the targets of the FBI's probe:
It would not be appropriate for me to reveal those details before the professionals conducting the investigations are ready. So, I will not answer any questions about who are targets of the ongoing Russia investigations. But I will say this: Shortly after Director Comey briefed us, I tweeted that he should be transparent. I said he should tell the public what he told Senator Feinstein and me about whether the FBI is or is not investigating the President … On Tuesday, the President's letter said that Director Comey told him he was not under investigation. Senator Feinstein and I heard nothing that contradicted the President's statement.
Grassley went on to argue that "the American people deserve to know if senior government officials are under active criminal or intelligence investigation."
"Wild speculation that the FBI is targeting the president in a criminal or intelligence inquiry is not just irresponsible and unfounded," the senator continued. "It provides aid and comfort to the Russians and their goal of undermining faith in our democracy."
Thus, Grassley implored the FBI to publicly announce whether it is investigating Trump.
So: Grassley says it would be inappropriate for him to reveal whom the FBI is and isn't targeting in its investigation. But he also says that claims that the president is under investigation are "unfounded"; he's heard nothing that contradicts the president's letter to Comey; and an official announcement on this subject would help restore faith in American democracy.
So, clearly Comey did not tell Grassley that Trump's days are numbered.
Regardless, the investigation into collusion between the president's campaign and the Russian government appears to be continuing apace.
"There has been no effort to impede our investigation to date," acting FBI director Andrew McCabe said in testimony to the Senate Intelligence Committee Thursday. "You cannot stop the men and women of the FBI from doing the right thing … and protecting the Constitution."