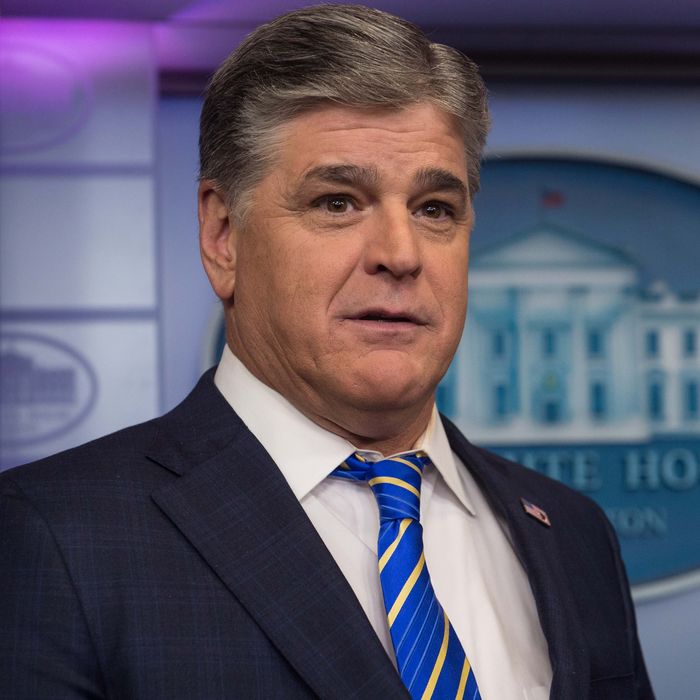 Hannity is the victim of a nefarious campaign to make him stop spreading baseless reports despite the objections of a grieving family.
Photo: NICHOLAS KAMM/AFP/Getty Images
As reports that President Trump revealed highly classified information to Russian officials during an Oval Office meeting dominated the headlines last week, another story gripped the right-wing media. Rod Wheeler, a private investigator and Fox News contributor, told a local Fox affiliate that there was evidence that Democratic National Committee staffer Seth Rich was in contact with WikiLeaks before he was fatally shot in July.
This was a massive break in the unsolved murder case, and potentially the Trump-Russia investigation, as Sean Hannity explained:
It's also totally false. The story began falling apart last week when Wheeler said his comments were misinterpreted, and he'd only learned of the "evidence" from the Fox News reporter who interviewed him. D.C. police have said they do have evidence that suggests the 27-year-old was the victim of a botched robbery, and they're still investigating. Rich's family responded by "officially asking for a retraction and an apology from Fox News and from the Fox 5 DC affiliate for inaccurate reporting and damaging the legacy of their son."
A week later, Fox News issued a rare retraction (but no apology). The network released this statement on Tuesday afternoon:
On May 16, a story was posted on the Fox News website on the investigation into the 2016 murder of DNC Staffer Seth Rich. The article was not initially subjected to the high degree of editorial scrutiny we require for all our reporting. Upon appropriate review, the article was found not to meet those standards and has since been removed.

We will continue to investigate this story and will provide updates as warranted.
Sean Hannity did not take this well. In addition to the family's general request, on Tuesday the victim's brother wrote a letter to Hannity's executive producer asking him to find the "decency and kindness" to stop spreading "baseless accusations" on the show. Seth Rich's parents also published a Washington Post opinion piece on Tuesday, saying:
Still, conservative news outlets and commentators continue, day after painful day, to peddle discredited conspiracy theories that Seth was killed after having provided WikiLeaks with emails from the DNC. Those theories, which some reporters have since retracted, are baseless, and they are unspeakably cruel.
Nevertheless, the Fox News host continued promoting the conspiracy theory and remained defiant after Fox News issued the retraction. On Twitter he claimed he's the victim of "liberal fascism," and promoted hacker Kim Dotcom's claim that he has evidence that Rich leaked to WikiLeaks:
Then, on his radio show, Hannity played an interview in which WikiLeaks founder Julian Assange suggested Rich was his source. Hannity called members of the mainstream press "phony hypocrites" for criticizing his coverage as they pursue allegations that the Trump campaign colluded with Russia. "And all you in the liberal media, I am not Fox.com or Fox News.com. I retracted nothing," he said.
Then, on Twitter, he suggested he'd have major news on his Fox News broadcast:
As promised, Hannity addressed the Seth Rich story. But rather than apologizing or retracting the reports his own network said were false, Hannity merely said he would stop discussing the story "at this time." A day after Aaron Rich told Hannity, "It is a travesty that you would prompt false conspiracy theories and other people's agendas rather than work with the family to learn the truth," the host portrayed his silence as a chivalrous favor to a grieving family:

I totally and completely understand how upset and how hard this is on this family, especially over the recent coverage of Seth's death. Now, I've been communicating with them. I got a very heartfelt note. I also sent them a heartfelt note back. I reached out personally today to his brother, Aaron. I expressed my condolences over how hard and how difficult this has been for him and his family. As I told Aaron, my heart and soul and prayers —everything goes out to them in this very difficult time.

… As a father, when I saw the video of the parents online saying they want answers … it truly pained me. However, out of respect from the family's wishes for now, I am not discussing this matter at this time. Now, let me explain this. There are so many issues here. Not the least of which is the democratic push of their Russian narrative, collusion, Trump-Russia narrative. The destroy-Trump-media and Democrats, they have been pushing that tinfoil hat conspiracy with zero evidence …
Then, at the end of the clip, Hannity railed against the "effort to silence me" and said he'd stay at Fox News "as long as they seem to want me." He also noted that while he may stop covering the Seth Rich story for a while, he's absolutely not abandoning the conspiracy theory:
I want to say this to you, my loyal audience, please do not interpret what I am saying tonight to mean anything — don't read into this. I promise you, I am not going to stop doing my job. To the extent of my ability, I'm not going to stop trying to find the truth. That's what we do here every single day. That effort. That's not stopping in any way, shape, matter or form. I'm continuing the work that I promise to do every day for you and at the proper time, we shall continue and talk a lot more.
After the segment aired, Hannity tweeted:
Finally, he asked people to spread the message he'd tweeted minutes earlier about "not stopping":
Seth Rich's family opted to thank Hannity for saying he would stop discussing the matter ("for now"), and look past the part where he did the opposite minutes later.