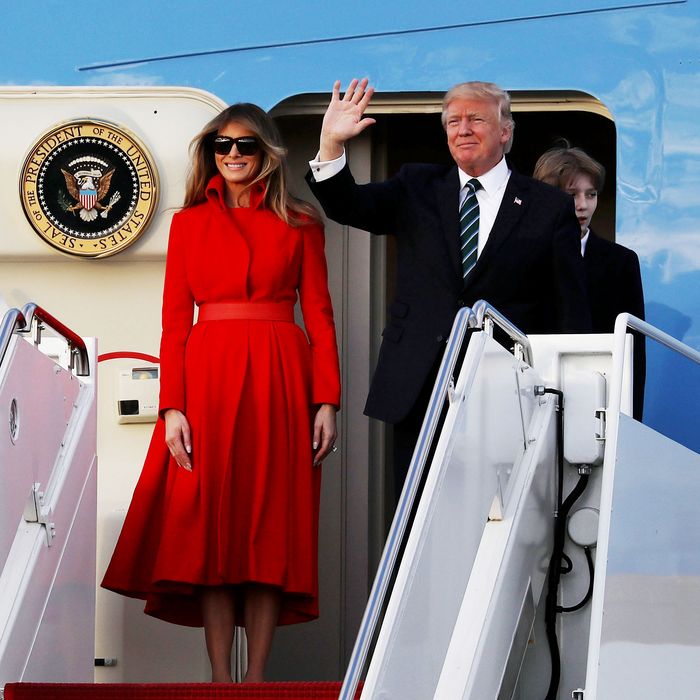 Travelin' Trump.
Photo: Joe Raedle/Getty Images
President Donald Trump will make the first overseas trip of his presidency this month, visiting Israel, Saudi Arabia, and the Vatican for his first official visits abroad. The religious theme is intentional, as Trump seeks, according to his prepared remarks, "to build a coalition of friends and partners who share the goal of fighting terrorism and bringing safety, opportunity and stability to the Middle East."
White House officials told the Washington Post that Trump will try to gain support for the fight against terrorism, isolation of Iran, and "unifying the world against intolerance."
Trump will conclude his jet-setting with a previously scheduled May 25 NATO meeting in Brussels, and a G7 summit in Sicily.
The announcement of Trump's trip comes a day after meeting with Palestinian Authority president Mahmoud Abbas at the White House, where Trump touted his renewed desire for Middle East peace, saying, "It's something that, I think, is frankly maybe not as difficult as people have thought over the years." Trump met with Israeli prime minister Benjamin Netanyahu in February, one of his earliest White House guests.
In Saudi Arabia, Trump is expected to meet with leaders from across the Arab world, according to the New York Times, with the goal of constructing "a new foundation of cooperation and support with our Muslim allies."

The president will have an audience with Pope Francis on May 24, another person with whom Trump feuded on the campaign trail. The then-candidate referred to His Holiness as a "pawn" of the Mexican government after the Pope made a veiled reference to Trump, saying "a person who thinks only about building walls, wherever they may be, and not building bridges, is not Christian."
"If and when the Vatican is attacked by ISIS, which as everyone knows is ISIS's ultimate trophy," Trump actually responded in a statement, "I can promise you that the pope would have only wished and prayed that Donald Trump would have been president because this would not have happened."
Trump will wrap up with the G7 and NATO, for which, at least, his tolerance has also grown of late.