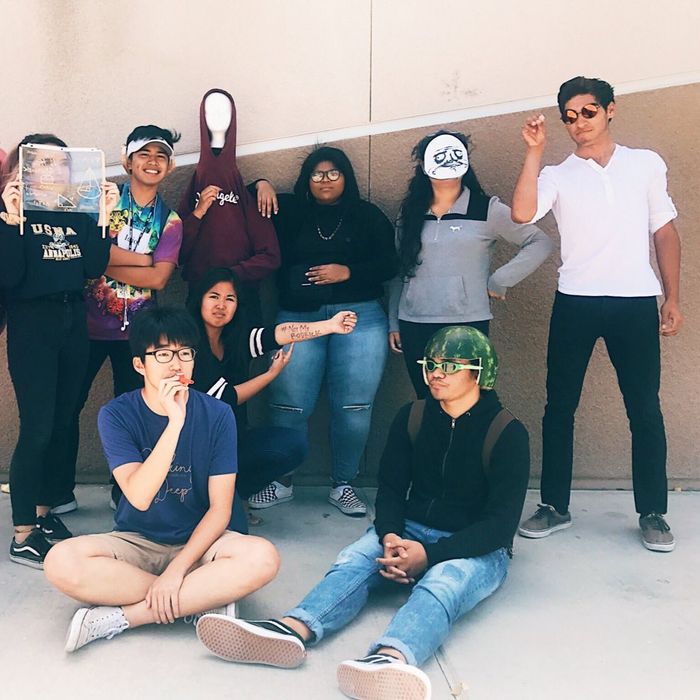 Nicole Pinto and her friends celebrating Meme Day at school.
Last week, 18-year-old Nicole Pinto and her senior classmates spent the week dressing in various costumes for Olympian High School's annual spirit week. By far, at least as far as the internet is concerned, the best day of the week was Meme Day, on which Pinto and her friends dressed as, well, memes. Salt Bae. Confused Math Lady. Idiot Sandwich. Mannequin Head. You on Kazoo. The gang was all there.
Select All caught up with Nicole, via Twitter DM, to find out more about this excellent and very real holiday.
So would you say that you are a big meme fan, Nicole? Are you a meme connoisseur?
Haha, yes! My friends and I are all huge on memes. We love them.
What are some of your faves?
Wow, that is a hard question. In the video, you can see my friends all chose ones we all really liked, like Kazoo Kid and #NotMyRodrick. I'm a huge fan of Peanut Butter Baby, so I definitely would have done that if it weren't so messy. I opted for the iconic Turtleneck Dwayne Johnson, though.
A true classic. So tell me about how Meme Day came to be a thing at your school. I love it.
We had a senior spirit week to get us hyped for all of the end-of-the-year activities we have coming in the next month (prom, grad night, graduation, etc.). The spirit week is five days of themed dress up that are decided by the school to bring fun and creativity to campus. Some of the days during this week include College Gear Day, Tacky Tuesday, Pajama Day, and most [important] of all, Meme Day. My graduating class is all pretty meme-y, so our school's student-activities directors thought it was fitting.
Would you say that the majority of your class got into it?
I'd say about half, maybe. A lot of us, like my friends, love memes and are proud to [love memes], but there's a large amount of students that are "closeted memers" and normies that don't get any of them at all.
We can only hope that they'll come around to memes some day.
True! That would make everything more fun. This [going viral] is all just super crazy, and it's happening really fast. I think the funniest part of all of this is trying to explain to my parents what memes are, and why I'm all over their Facebook feed.
What have you told them?
I didn't really mention anything to them until we passed a million views on 9GAG. That's how I knew it was getting big. I just kind of showed them the posts and was like, "Hey, guys, remember when I went to school dressed like the Rock? Well, I took a video of everyone else's costumes, and it's gone viral." I had to show them comparison pictures of everyone to clear it up a little better. I will say, they started to get the joke, but they are definitely still a little lost as to why it got so huge so fast.
Ah, yes, memes and parents. Do you think Meme Day will become an annual tradition?
Probably! It was such a huge hit with us, and now that the whole school knows we went viral, I'm sure they will continue our legacy.
This interview has been edited and condensed for clarity.