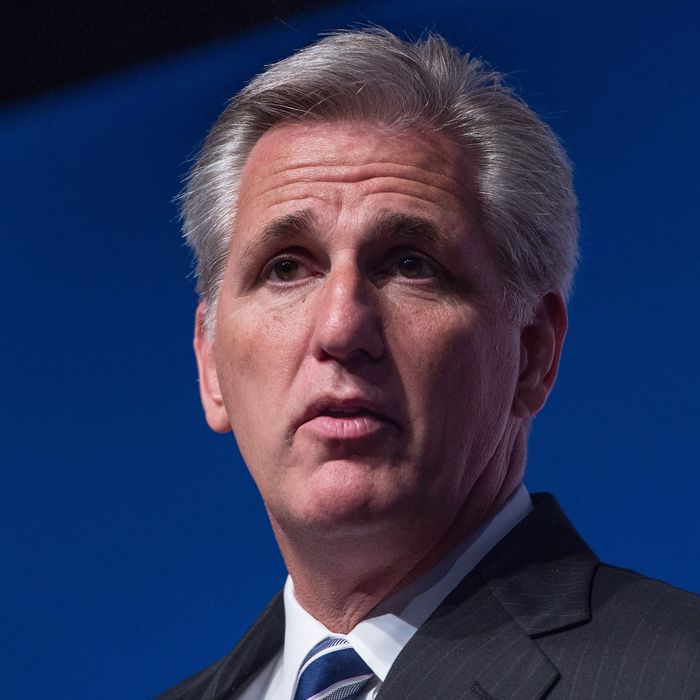 Kevin McCarthy.
Photo: Nicholas Kamm/AFP/Getty Images
Shortly after Russian hackers broke into the Democratic National Committee's computer network last year, members of the House GOP leadership discussed Vladimir Putin's geopolitical ambitions.

During that private conversation, House Majority Leader Kevin McCarthy suggested that the party's likely nominee was on the Kremlin's payroll. Paul Ryan, Cathy McMorris Rodgers, and Steve Scalise laughed. McCarthy said, "Swear to God." Ryan swore all present to secrecy.

All would go on to endorse Trump. McCarthy would offer the president such dogged support, Trump would come to refer to the majority leader as "my Kevin."
And, nearly a year later, someone would hand a tape of that conversation to the Washington Post. On Wednesday, the paper published a partial transcript of the chat:
"I'll guarantee you that's what it is …The Russians hacked the DNC and got the opp [opposition] research that they had on Trump," McCarthy said with a laugh.

Ryan asked who the Russians "delivered" the opposition research to.

"There's … there's two people, I think, Putin pays: [California Republican Dana] Rohrabacher and Trump," McCarthy said, drawing some laughter.

"Swear to God," McCarthy added.

"This is an off the record," Ryan said. Some lawmakers laughed at that.

"No leaks, alright?," Ryan said, adding: "This is how we know we're a real family here."

"That's how you know that we're tight," Scalise said.

"What's said in the family stays in the family," Ryan added.
The Post asked the House Speaker's spokesman for a comment Wednesday. The ensuing exchange could have gone better for Ryan's flack.
When initially asked to comment on the exchange, Brendan Buck, a spokesman for Ryan, said: "That never happened," and Matt Sparks, a spokesman for McCarthy, said: "The idea that McCarthy would assert this is absurd and false."

After being told that The Post would cite a recording of the exchange, Buck, speaking for the GOP House leadership, said: "This entire year-old exchange was clearly an attempt at humor."
On the one hand, there is a lot of laughing in that transcript. On the other, McCarthy laughed when he said that the Russians had hacked the DNC and scooped up opposition research on Trump — a claim that appears to be more factual than humorous.