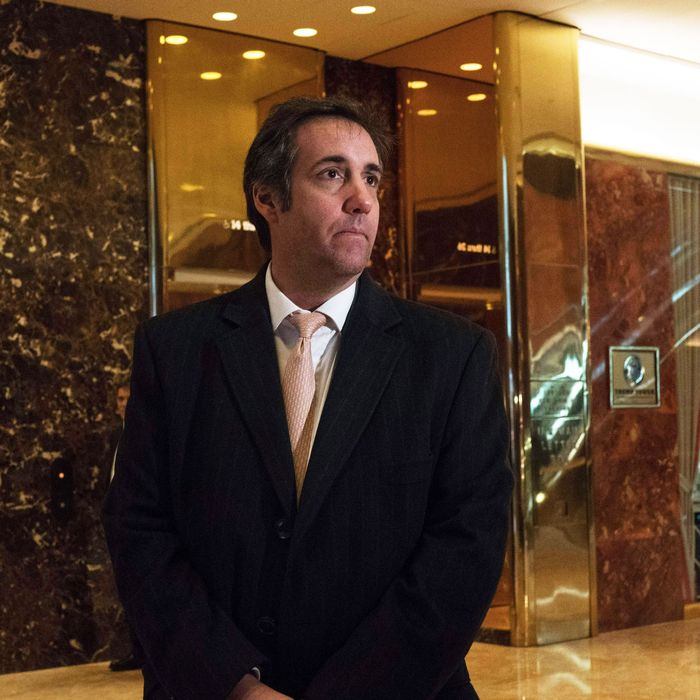 Michael Cohen.
Photo: Bryan R. Smith/AFP/Getty Images
Expect the Fifth Amendment to get a lot of shout-outs in the coming weeks. On Wednesday, the House Intelligence Committee hit two of Trump's high-level associates with subpoenas: Trump's longtime personal lawyer Michael Cohen and former national security adviser Michael Flynn.
"We approved subpoenas for several individuals for testimony, personal documents, and business records," Republican Mike Conaway, who is leading the House's Russia probe, and Democrat Adam Schiff, the committee's ranking Democrat, said in a joint statement. "We hope and expect that anyone called to testify or provide documents will comply with that request, so that we may gain all the information within the scope of our investigation."
Hope may prove inadequate. Flynn recently refused to comply with subpoenas from the Senate Intelligence Committee, asserting his Fifth Amendment protection from self-incrimination. However, the retired general is preparing to offer the committee some documents, according to a source who spoke with Bloomberg.
When word leaked that the House and Senate had sent Michael Cohen (nonbinding) requests for documents earlier this week, Talking Points Memo's Josh Marshall argued that the investigators were barking up the right tree:
Cohen is referred to as Trump's personal lawyer. Not likely. President Trump has other lawyers who sue people on his behalf, defend him in lawsuits and criminal matters. From everything I've been able to tell, Cohen fills a business role for Trump as well as being his public threatener. Cohen has multiple personal and business relationships with people from Russia, Ukraine and emigres from those countries. He is a major real estate player in his own right, as well as working on numerous deals within the Trump Organization. Just back in 2015 Cohen bought a $58 million apartment building on New York's Upper East Side. $58 million.

… How did Cohen first come to Donald Trump's attention and join the Trump Organization just over a decade ago? That's another interesting story. It was apparently his ability to serve as a conduit for money emigres from the former Soviet Union were using to buy apartment units at Trump branded luxury developments … Cohen is a much bigger deal in this whole story than I think is broadly realized.
The House Intelligence Committee issued a total of seven subpoenas on Wednesday, according to The Wall Street Journal — four related to the investigation into Russian interference in the 2016 election, and three concerning the (trumped up) "unmasking" controversy.
The panel also sent a letter to Boris Epshteyn, asking the former White House press aide to voluntarily submit information to the committee.